Expected that emergency roadworks will be completed by end of school holidays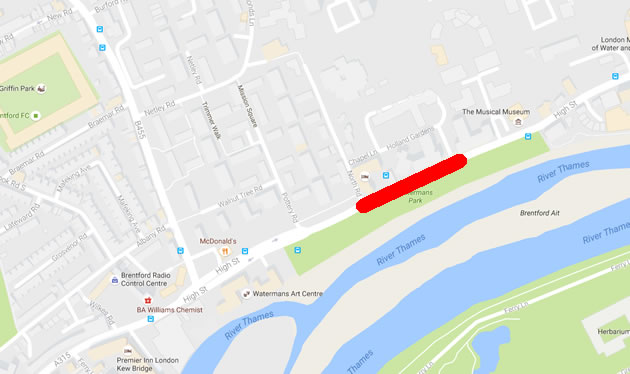 Closed section of Brentford High Street marked in red. Picture: Google
Brentford High Street (A315) has been closed off in both directions around Watermans Park.
This is due to a sudden Thames Water emergency and the works were put into place without much notice in order to get them done before students go back to school. It doesn't even show up on Thames Water's own map of repairs and no notification was given to the media.
A Thames Water spokesman said: "We're repairing a collapsed sewer under the road and taking the opportunity to work with a developer preparing services for new properties in the area at the same time. This means the road only has be closed once and not twice as first thought. We're sorry for the disruption but it's a complex job and we expect everything to be back to normal by a week on Monday."
The road is fully closed between between North Road and Holland Gardens, with a diversion via Kew Bridge Road, Chiswick High Road, A4 and Ealing Road, and vice versa.
There are also roadworks between Kew Bridge junction and Chiswick Roundabout.
Traffic on Ealing Road is suffering the consequences and there is concern about possible gridlock due to a Brentford FC game this Saturday.
Buses are on diversion with the 237 and the 267 going up Ealing Road, along the Great West Road and then returning to their normal route at Chiswick Roundabout.
The 65 bus route, already on diversion between Richmond and Kingston follows the same route via Chiswick roundabout, Great West Road and Ealing Road.
August 26, 2016