Existing traders worried about disruption due to construction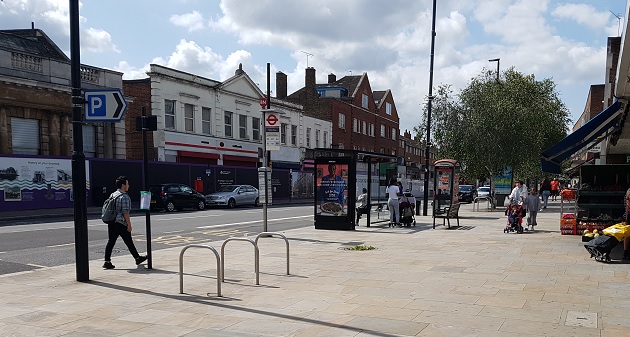 It's been widely reported in newspapers, television and radio that High Street traders are having a hard time up and down the country with one-in-ten shop premises standing empty. A number of factors are at work: the large increase in on-line shopping; business rates; high rents; the uncertainty over Brexit. A campaign has been started by major retailers, (including Tesco and Harrods) for an urgent government review of business rates to try and redress this situation

Unfortunately, Brentford High Street is under yet further pressures, with the start of the Ballymore project leading to closure of the south side of the High Street, and of the public car park next to the disused St Lawrence Church. We have lost the Post Office, the NatWest branch, Greggs, Evans Cycles, Sami's Spice etc. etc. etc. To compound and add to this situation is the impending loss of Morrisons early next year with the commencement of the L&Q development.

While the exciting prospect of new shops, cafés and restaurants will come with completion of the Ballymore project, unfortunately it will be three to five years before that happy scene arrives.

Regrettably, the resulting consequences are currently the number of people using the remaining parts of the main High Street has dropped by a third, putting great strain on the remaining shops, cafes, restaurants and pubs. The impact is also being felt further along the High Street with the shops in Albany Parade affected. Some people are even saying that 'Brentford is closed'!

The major players – Hounslow Council, Ballymore and L&Q (Morrisons site) all have parts to play in keeping Brentford Town Centre going. Whilst the recent announcement of the first hour's parking is to now be free in the Ballymore car park is one constructive step, more are needed! Such as, could we please have a sign on the main road sign-posting the new car park? The appointment of a Town Manager working with all interested parties, particularly the traders, would be a very constructive step, and one which would be very welcome whilst Brentford is undergoing such huge change.

The High Street traders are keen to work with and support the local community in any way they can, as such have now established a working High Street traders' group to explore all opportunities into developing and retaining a thriving High Street for Brentford and its community.

The traders are certainly not giving up, and a number of events are being planned for the Market Place so as to attract people to the High Street. The Sunday Market is already playing its part. A very successful fashion show was held outside Verdict last month with another one scheduled for mid - September. A big target is a Christmas Market, possibly starting on Friday 8th December which is Saint Nicholas' day beloved of children in other parts of Europe. Do support these events to help our High Street in these challenging times. As the old phrase goes 'Use it or Lose it'.

We would welcome all suggestions and comments from residents and the community on what they would like to see in their High Street.

Do please email brentfordtowncentre@gmail.com OR visit our Facebook page Brentford Town Centre Traders OR pop into Verdict and ask for Aaron for further information on use of the Market Place for events..
August 23, 2019