It's not just about height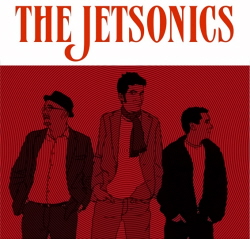 The Griffin played host to three-piece rock band The Jetsonics on Saturday night. The gig was well attended by fans of the group as well as some new faces.
The Jetsonics consist of Sam Day (guitar and vocals), Adam Donovan (bass and backing vocals) and, Dave Lombardi (drums).
The gig started with a tribute to a Brentford fan known as "Push up man" for his repeated cries during games, home and away, of "Push up Brentford" and "Keep it tight Brentford"

As the evening progressed, the 6ft 8in Sam brought the crowd to life with his superb singing and encouragement.

The bassist, Adam, provided a fantastic rhythm to the songs with Dave on the drums producing an excellent beat in a venue not entirely suited to gigs, with a pillar obscuring the band.
As the evening reached a crescendo with the excellent Murphy's Heroes and Satisfied being played leaving the crowd to go home thoroughly entertained.

Jools Holland is a fan of the group, after some CDs were posted through his letterbox, and he has tried to get them onto his show in the past, but he couldn't get it past his producers as they are currently unsigned.
The Jetsonics will be playing their next gig at the Fiddler's Elbow in Camden on 8th July 2011 and for more information on them as well as other songs visit http://www.thejetsonics.com.
If you would like Tom to review your gig please contact editor@brentfordtw8.com
Tom Moore
June 29, 2011