Charlie Brooks delivers certificates to young people for their hard work
The Bridge Awards night took place at Brentford Football Club on the 12th October 2012 and was supported by Eastender's Charlie Brooks who arrived as a surprise to give our young people their certificates.
Awards night at the bridge was all about celebrating the success and achievement of over 50 young people from the Borough of Hounslow. All of our young people have put in a lot of effort and hard work into their own professional development and as a result they have gained a qualification and a job in the hospitality industry.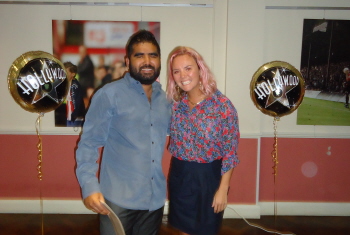 Ferris Hussain collecting his certificate from Charlie Brooks

The night was also about the recognition of all our partners and employers that go the extra mile to support our young people into work. A special thanks to the Docking station team, Hounslow job centre who have been very pro-active over the past year, Premier Inn (Spencer Chamberlain) who has offered job opportunities to a great many of our young people and Roy from Age UK who goes out of his way to help our young people by offering work experience.

Our new group of young people also deserve a very big thank you for the wonderful buffet they provided at awards night. They worked extremely hard and produced a very impressive menu.
The Bridge operates the Bees Cafe at the Docking Station on Thursdays.
November 12, 2012