110 to no longer serve WMU Hospital and H37 to decrease in frequency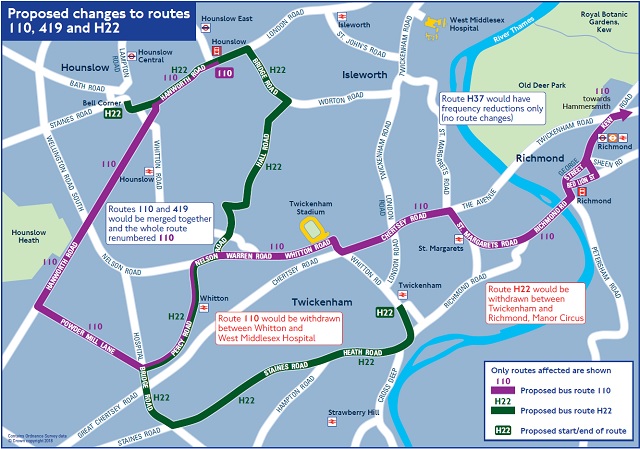 TfL have reviewed bus services around Richmond and are proposing changes to bus routes 110, 419, 493, H22 and H37 to reallocate bus resources to where additional capacity is needed in Richmond, Twickenham and Whitton.
Route 110 would no longer run between Whitton and West Middlesex Hospital (covered separately by higher frequency routes 267 and H22).
Route H22 would be rerouted to serve nearer to Twickenham station.
Route H37 frequency would be reduced from buses running every 6 minutes to buses running every 7 to 8 minutes during Monday to Saturday daytimes and an extra two minutes between buses at other times. An extra bus would run to provide 9 buses per hour during peak demand to and from Richmond and a second extra bus would remain in place to meet afternoon school demand at Isleworth.
You can complete the survey online, email consultations@tfl.gov.uk or write to FREEPOST TFL CONSULTATIONS. The survey ends on Tuesday 11th December.
November 8, 2018