They make tea in temples not bags

I visited teapigs last Thursday to have a chat with Nick Kilby, co-founder of teapigs. He didn't have much of a problem selling the concept of teapigs as I'm already a customer and have always drunk real tea.

teapigs fills a niche gap between loose leaf tea and ordinary teabags. It does this by providing the quality of whole leaf teas in its attractive pyramid tea temple so you get the benefit of the loose leaf with the ease of a teabag.



Nick and his co-founder Louise Cheadle left Tetley to form teapigs in 2006. They started off in Ealing and were lucky enough to outgrow their premises. They've relocated to Brentford, to the historic address of The Old Pumping Station, Pump Alley.

There will be 17 people in this office from September, mostly local people and they pack their internet orders here for distribution. The teas come from all over the world before being packed into their tea temples. The tea temples themselves (and they really do look pretty) are made from a corn starch derivative called soilon and they feel silky.



You've probably noticed teapigs around Brentford over the last few years. Their teas are sold in the Docking Station and often turn up as prizes. I myself won a box of super berries a few years ago at our school summer fete. This summer they had a stall at the excellent inaugural summer fair at Brentford School for Girls. The stall was manned by a student who went for work experience at teapigs and demonstrated her passion for the product.



Last time I researched teapigs which was probably about five years ago when I first purchased their wares the list of stockists was rather paltry. Now they are offered in hampers, delis, tea shops as well as Waitrose and most recently, Tesco. Many online retailers stock their products and word of mouth is spreading. In many ways this is the perfect story of how to build your own business although Nick and Louise were financed by startup capital from Tata Global Beverages, part of the family-owned multinational Tata Group who own Tetley. Despite this investment they are a small independent company committed to spreading the invitation to "drink real tea", a message I heartily support.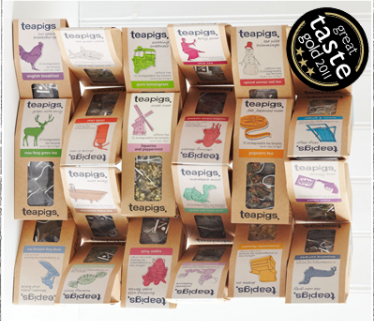 They have 21 varieties of tea. The pure teas are oolong, white, jasmine, green, earl grey and and everyday brew. Matcha is a concentrated green tea with a kick, that is rumoured to have magical properties although the evidence is unclear.

Herbal teas are lemongrass, chamomile and peppermint.
Other teas are chai, chilli chai, chocolate flake, green with mint, popcorn, rooibos, rooibos creme caramel, spiced winter red tea, liquorice and mint, lemon and ginger and my bedtime cuppa, superfruit.



If that list has dazzled you, then you can get a wonderful sample box with 12 mini packs to try by shopping online at www.teapigs.co.uk. I suggest you do that.

Kath Richardson

August 1, 2013