Can This Tangled Web Help You?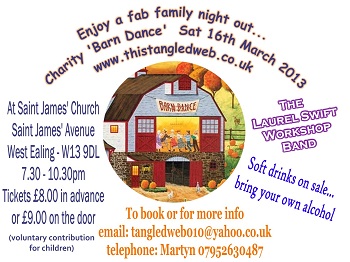 Enjoy a fab family night out with a charity Barn Dance on Saturday 16th Mar.
At St James' Church, St James' Avenue, West Ealing W13 9DL
7.30-10.30pm (soft drinks on sale, bring your own alcohol)
Tickets are £8 in advance or £9 on the door with a voluntary contribution for children.
To book or for more info email tangledweb010@yahoo.co.uk or telephone Martyn on 07952630487
'This Tangled Web' was established in February 2010 to provide help, support and understanding to survivors of childhood abuse.
February 7, 2013