Admiring festival goers at Foodies Festival captured on video
Greggs made a surprise undercover appearance at Syon Park's Foodies Festival to promote its new summer menu. The Foodies Festival attracts some of the biggest names in the food business including Michelin-starred chefs.
Unsuspecting festival goers tried out the food from "Gregory and Gregory" that included herb chicken with roast vegetable grain salad, a feta and beetroot dip salad with a roast vegetable grain, an oriental chicken sticky rice salad and a Mexican vegan bean wrap.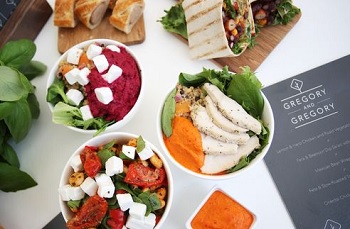 "The avocado is so au fait at the moment, it definitely pops," said one foodie and another commented "It's like sushi in a bowl."
On being asked where they could buy Gregory and Gregory's food the stall assistants, smartly dressed turned around the hanging logo to reveal Greggs own branding.
This prompted reactions such as "Dear God! You're joking!" and "See I would never go into Greggs" with only one speaking favourably of Greggs.
Malcolm Copland, commercial director at Greggs said: "London is a global gourmet destination from its street food scene to the incredible array of critically acclaimed restaurants – so where better to try out our new lunchtime range. The reaction to the new menu has been fantastic and we're now rolling it out across the UK."
June 1, 2018