Dedication service takes place for Alexandra House
On Monday 12th September, The Rt Revd Dr Graham Tomlin, Bishop of Kensington led a service of dedication for St Paul's school's new second site, Alexandra House. With the additional site, the school is now able to realise its plans to expand, doubling capacity by September 2020. Historically a one-form entry school, 60 places (two forms) are now offered in each year of admission to Reception class.
St Paul's School is a Church of England primary school in the Borough of Hounslow. The school was opened in 1873, shortly after St Paul's Church was built.
Primary place demand has steadily increased in recent years but the school was unable to expand as the original building is in a conservation area and cannot be sufficiently adapted to provide the number of classrooms needed.
Mr Glenn Greene, Chair of Governors, speaking at the service on Monday paid tribute to Councillor Curran and Mr Michael Marks (Assistant Director of Education and Children's Services LBH) for the support they gave to the school and its governors in securing and renovating Alexandra House, a local authority building, to become a second site and enable expansion of the school.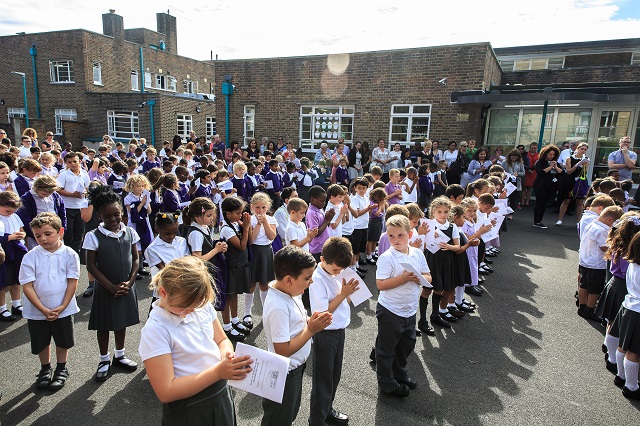 photo courtesy Pam Wade Photography
The event was attended by governors, staff, pupils and families of the school as well as a number of invited guests including Elizabeth Wolverson (Director, School Support Services at the London Diocesan Board for Schools), Ruth Cadbury (Local consitutency MP) and officers from the local authority and local schools.
Alexandra House was designed by L.A. Cooper, the Borough Engineer and Surveyor in contemporary 1930's style. It began life as Brentford Health Clinic and Juvenile Employment Bureau and opened in 1938, shortly before the establishment of the National Health Service.
Until very recently it retained its function as a health centre for the people of Brentford, before being used as a community hub for local charities including most recently Age Concern.
The building has a listing for some of its original 1930's features including the 'liner style' appearance and the original Crittal Windows.
David Loxton was the architect commissioned by the local authority to redesign the building as a school site, retaining the original character of the building and renovating the original features. Work on the rebuild started in Autumn 2014. Eight new classroom spaces, toilets, offices, a kitchen and hall facility were created. The school expanded onto the site in Autumn term 2015. We will continue to grow over the next few years as the two class year groups pass through the school.
The school's infant children, years 1 and 2, and upper junior children, years 5 and 6, are located on Alexandra House. This means that children spend time on both sites as they pass through the school.
St Paul's CE Primary School has become Hounslow's first split-site primary school.
September 17, 2016