Races, walks, football and paddle boarding with Community Sports Trust in Syon Park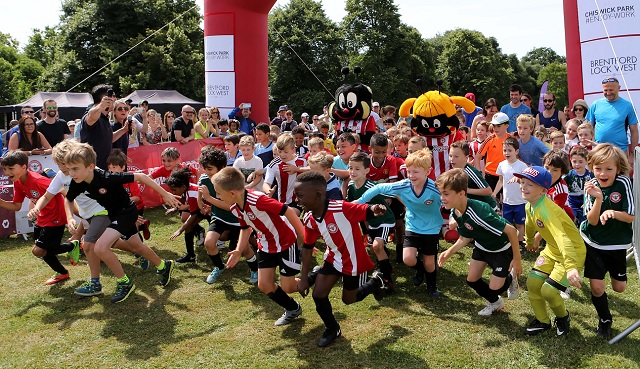 Runners, families and children basked in the summer sunshine as the Mayor of Hounslow, Councillor Samia Chaudhary, was the official starter for the Brentford Challenge.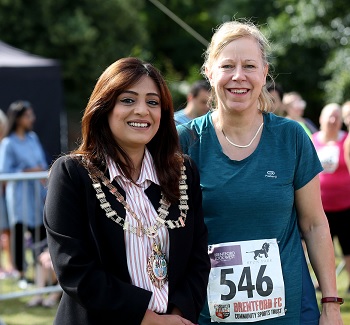 Cllr Samia Chaudhary and Ruth Cadbury MP
With temperatures soaring to 24 degrees, more than 300 people – including local MP Ruth Cadbury – took part in one of Brentford's biggest sporting events at Syon Park last Sunday.
Run in partnership with Brentford Lock West, the Brentford Challenge included a 10k run, 5k run, 5k Walk and Talk (in association with West London Mental Health Trust) and a 1k children's race. Fortunately, all the runners had the unique opportunity to run in the stunning private grounds of Syon Park.
Steve and Jenny who ran the 10k race and live in Brentford said:
"We live in the Brentford Lock West development and we thought the race looked like a great course; I think it's fantastic to get involved with a local community event."
"We do quite a lot of running events," Jenny added. "But it's great to have a local sporting event that is right on your doorstep."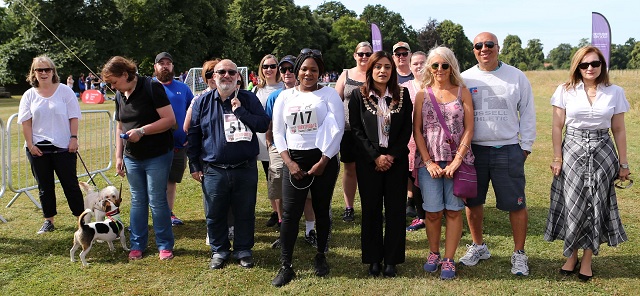 This year also marked a special mental health event: a 5k mental health awareness walk in partnership with West London Mental Health Trust. The walk – coined a 5k 'Walk & Talk' – aims to tackle the stigma around mental health and encourage more people to get active.
Angela Benjamin, who took part in the 5k mental health awareness walk, said:
"I suffered from depression after the death of my two daughters. I took part in a similar event last year and it was amazing to talk to other people who are in a similar situation to me.
"Talking to people from all backgrounds made me realise I was not alone – raising awareness of mental health is so important."
Along with highlighting the importance of mental health, the Brentford Challenge also offered a range of activities that encouraged local children to get more active. The event hosted an under 8s football festival, an introduction to paddleboarding at Brentford Lock and a Pilates taster session.
Lee Doyle, Chief Executive of Brentford FC Community Sports Trust, said:
"I would like to thank our partners Brentford Lock West, Syon House, Ferrero and Enjoy Work for enabling us to deliver a fantastic event that can be enjoyed by everyone in the local community.
"Sporting events like these highlight the spirit of the local community, which in turn, help more local people to get active and enjoy exercise."
Michael Auger, Regional Director for Brentford Lock West and Brentford's official partner for the event, said:
"We'd like to say a huge thank you to the Community Sports Trust and to all of the people who took part in the annual Brentford Challenge on Sunday. Yet again it was a fantastic event that saw the whole community come together to get active and enjoy a fun packed day.
Whether you participated in one of the many organised runs, you took part in the paddleboarding right outside our sales suite, or you enjoyed the various activities on offer in the sports village, we hope you had as much fun as we did! It was great to see so many of our residents taking part and to hear how they are enjoying life here."
June 26, 2018