Community Sports Trust highlights value of volunteer during Volunteers' Week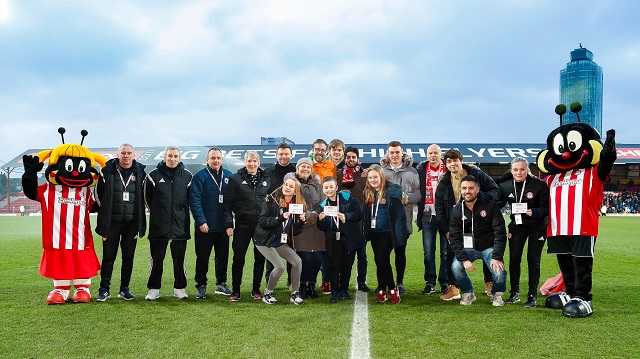 Kirsty Turner – an avid Brentford fan – has volunteered hundreds of hours for the club's community trust.

As Volunteers' Week gets underway, Kirsty Turner is just one of 28 volunteers who go that extra mile to support the Championship club's community projects.

The former teacher and mum-of-two has been a Brentford season-ticket holder for ten years and has volunteered more than 200 volunteer hours for Brentford FC Community Sports Trust.

Her volunteering focuses largely on projects that support children with disabilities and young carers who are struggling to get respite.

"For me, seeing the joy on the faces of children who benefit from the sports sessions gives me a great sense of wellbeing – it feels like I am making a difference and that you're doing something worthwhile," said Kirsty.

"I think some people are put off being volunteers because of the commitment and how much time it will take. Yet it doesn't matter if you do one hour or ten hours: you're still making an impact to young people."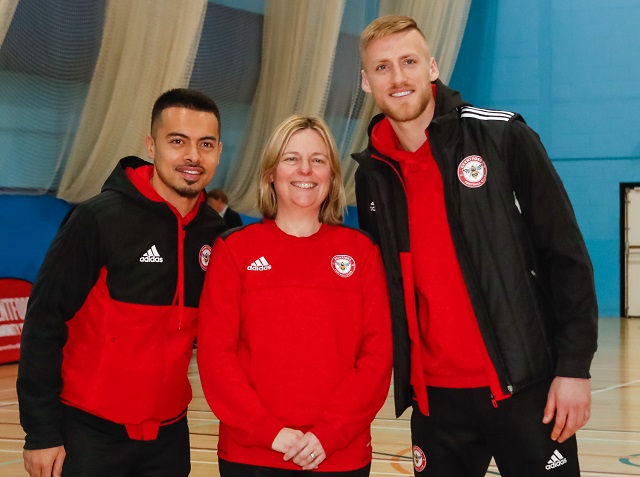 Kirsty with Nico Yennaris and Daniel Bentley

Kirsty certainly believes that Brentford FC is a place that could nurture Brentford fans' volunteering talents.

She said: "We're so much more than a football club: it's a family, it's a community."

Brentford, who work mainly across the three London boroughs of Ealing, Richmond and Hounslow, engage with about 500 disabled participants, and overall the Sports Trust is involved with more than 11,000 children and adults each year.
The work they do is diverse and ranges from delivering athletics and kayaking sessions, helping students through an extensive network in local schools and delivering programmes on estates to linking in with people connected to youth offending services and those on the edge of social care.
The Trust also has a 'learning zone' connected to it and is branching out with specialist teams looking at obesity and weight loss with children and adults.
"Sport is a great way of unlocking hidden talents," added Kirsty.
"Not everyone is academic, yet sport can help with young people's confidence – helping them develop important life skills."
Head Coach at Brentford FC, Dean Smith, certainly knows the benefits of Kirsty's volunteering and the Community Trust's work in local communities.

He said: "Our Community Sports Trust is a big part of what we are and who we are at Brentford FC. Our ties with the community are through the Trust and in my experience, it is one of the best that's out there."
June 8, 2018