Raise funds with the Silver Ticket Offer



Brentford School for Girls recently joined forces with Brentford FC & the Community Sports Trust and were able to offer all, students, parents and friends the opportunity to take part in its Silver match-day ticket offer.

Through the terms of the silver ticket offer, Brentford Football Club and Brentford Football Community Sports Trust generously offered us the opportunity of keeping half of all the money raised from ticket sales. This event raised £132, and the money will go straight back into the school and in particular the school's PE department.
The selected match was Brentford FC v Preston on Saturday on 16th March, at Griffin Park. It was wonderful to watch Brentford get a home win and move second in the League table. This was also the Club's Annual Ladies Day, to support women & girls football.
Tickets were available at an amazing rate of £4 per child (under 18) and £12 per adult, making a saving of £10 on an adult ticket and £1 on a junior ticket.

The next match available to the school is at the 50/50 discounted price which will be the last game of the season Brentford v Doncaster on Saturday 27th April.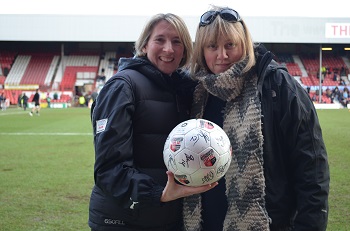 Amy Crook, Office Manager & Match-Day Community Coordinator at Brentford Community Sports Trust said, "We are delighted to be working in partnership with Brentford School For Girls."She is pictured presenting Liz Gers of Brentford School for Girls with a signed ball which will be raffled off.
More information on the Silver Ticket offer can be found on the website www.brentfordfccst.com or call them on 0844 247 1889
March 22, 2013