Early Bird Discount Before April 8th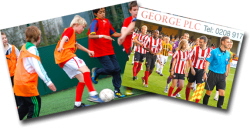 Easter & Whitsun Holiday Camps 2011 - FREE Match day tickets for all Early Bird bookings.

Following on from the success of February half term program, we will be running camps at Chiswick Community School, Chiswick, GOALS Soccer Centre, Osterley and Heston Community College, Hounslow.

The camps will again follow the football development format. Morning sessions will see players take part in technical and skills development whilst the afternoon will see small-sided non-competitive development games.
A further 2 'Match Day Live Events' compliment the football development camps. These are designed to encourage participants from all venues to come together and take part in a football tournament themed day. Again the morning sessions concentrate on skills development and preparation whilst the afternoon is dedicated to a small-sided competitive games tournament. "Match day live" camps are also complimented by Brentford FC player appearances.
Camps are open to boys and girls aged 5-12 years. Camps are designed to encourage technical and skills development whilst maintaining the element of having fun.
All early bird bookings for Easter and Whitsun (received on or before April 8th) receive 2 tickets to see Brentford FC vs. Colchester on Friday 22nd April.
The cost for early bird bookings is just £15 per child per day. Standard booking is £20 per child per day.
We believe our football development camps offer exceptional value for money and a a fantastic way for young players to come together, make new friends and have fun whilst learning in a safe and friendly environment.
Please click here to download the Easter & Whitsun booking form.
March 28, 2011