Audience participation is encouraged at this unusual AGM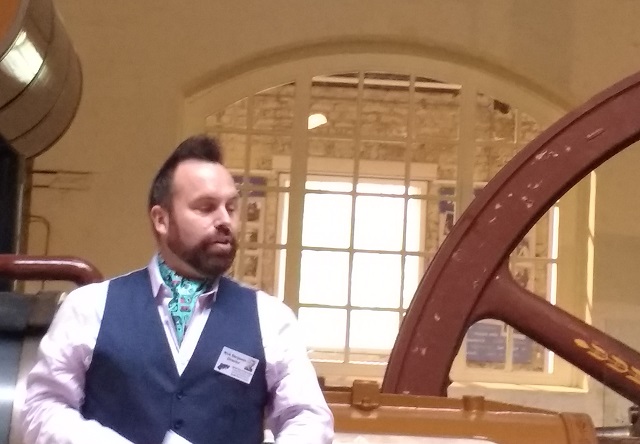 Nick Benjamin, Co-Director of Speak Out in Hounslow
Speak Out in Hounslow is a leading local charity that supports adults with learning disabilities. This Wednesday it held its AGM at the London Museum of Water and Steam which provides a marvellous, if sometimes noisy for this genuinely enjoyable event.
Speak Out is supported by many sponsors, and those who had representatives present, like the National Lottery got a loud round of applause. Thanks also go to Brentford FC Community Sports Trust, Grow Wild, LB Hounslow, Cultivate London amongst others.
Nick was a marvellous Master of Ceremonies and talked about all the fabulous things that Speak Out has done and plans to do in the future.
From this September Speak Out will be running own adult education from September which will include:
Travel training
Exercise group
Arts and crafts
Housework skills
gardening group at LMWS
swimming will return
Attendance certificates through AQA.

A grant has been obtained from Co-op Community Fund to do more Speak Out Radio. Past shows can be heard online.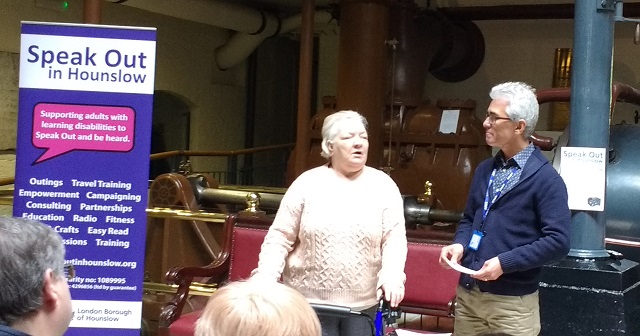 Steve and Linda
Steve spoke on travel training where he works with clients to become more travel confident and able to do important journeys on their own.
When training he takes a bag with water, snack, keys, inhaler; the parrot is optional. Linda (above) considers being able to go out a privilege; partially sighted and recently divorced she got into a rut and couldn't manage to get out. She celebrated being able to go to the shops independently by buying chocolates and crisps.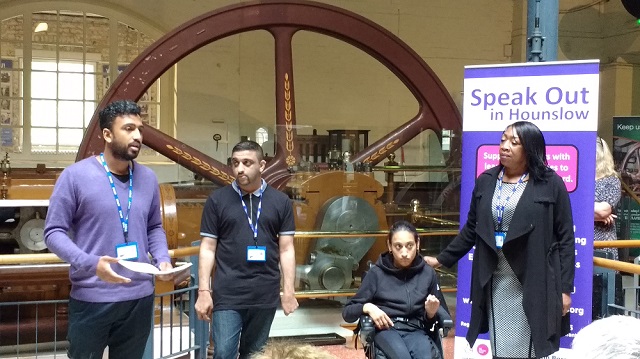 The CCP group, Campaigns Consultations and Partnership, stands up for members' rights and helps them sort out issues. They do mystery shopping, not just at shops but also with council services, GPs, PIP applicaitons and libraries. They will be running a training sessions to explain how to vote in the next election and have been involved in reviving the Keeping Safe initiative highlighting which shops will help people in need.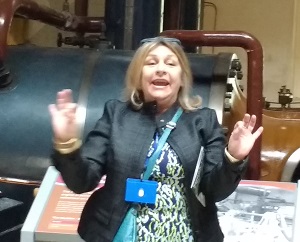 Liz organises outings and taster sessions. Her aim (and what a job description!) is to give everyone a good time. In the last year she organised over 300 outings including lunches, bowling, legoland, art gallery, Chessington, theatre, cinema, live music, golf, sky garden, plane spotting at Renaissance Hotel Hounslow. Liz is great at persuading companies to offer their facilities for free or at reduced prices.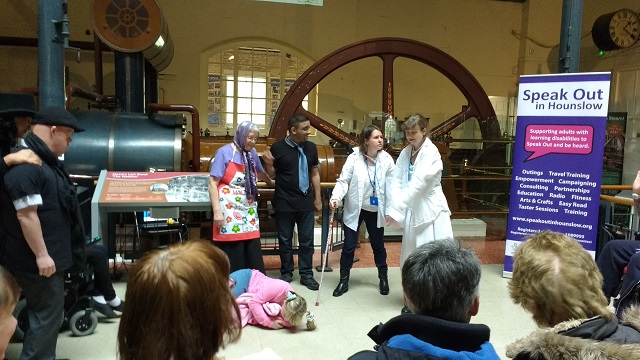 The "Five Minute" Play lasted much longer but quickly had all the audience in stitches.
After Afternoon Tea the Line Dancing group showed off their skills and members of the audience attempted to join in.
Visit Speak Out's website and see what they do.


Speak Out in Hounslow supports adults with learning disabilities to Speak Out and be heard.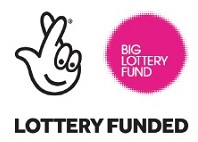 May 5, 2017