Plaque unveiled at Syon House
On July 26th 1609, several months before Galileo, an English scientist, Thomas Harriot, carried out the first observations and drawings of the Moon made using a telescope at his residence in the grounds of Syon House, West London.
On July 26th 2009 several hundred people came together at Syon Park to celebrate this historical anniversary. The rain just about held off despite trying to spoil the event.
Local author and broadcaster Ian Ridpath hosted three entertaining and informative talk throughout the day. Ian himself gave a talk on Apollo 11 and the moon landings, reminding us of the political situation which led to the landing 40 years ago. While this seemed ancient history to some children present, others were remembering their own memories of the event. Matt Irvine talked about the future space missions, with a lot of 'if's', 'buts' and shifting timescales, with an emphasis that future visits to the moon would be based on the original technology (tried and tested) rather than any innovative solutions. It was interesting to compare NASA's current graphics with the futuristic pictures of some 40 years ago and see which had happened. Greg Smye-Rumsby rounded off the talks with a presentation of the practical and personal difficulties of being an astronaut and how the solutions had or had not changed much.
There were many hands-on activities that took place. The lawn in front of Syon House was a launchpad to water-propelled rockets built by children with the aid of demonstrators from the Observatory Science Centre, Herstmonceaux. Paper nose cones and interestingly shaped fins produced a wide variety in flight to the amusement of participants and observers alike and there was certainly a good chance of getting wet if standing too close. There were also opportunities to sketch sunspots, watch the creation of a mini-comet, create practical star maps and sundials and a host of visual illusions to ponder.
An inflatable planetarium was the unusual attraction in the Great Observatory. Holding no more than 30 people, it provided a miniature view of the universe which was a valuable introduction for those new to stargazing, presented by two enthusiasts who were very engaging.
Lord Egremont finished off the afternoon with the unveiling of the Thomas Harriot memorial plaque, accompanied by madrigals from choral group Cantamus presenting music from Harriot's day. Dr Allan Chapman delivered a fascinating lecture in the evening about Thomas Harriot in the Garden Room Marquee.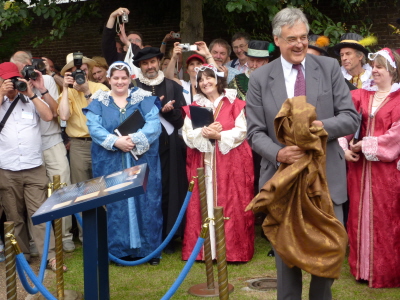 Lord Egremont having unveiled the plaque and Cantamus in background
July 28, 2009