Lampton School go on to regional finals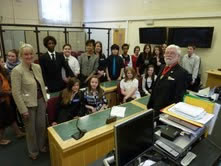 The Mayor of Hounslow, Councillor Paul Lynch with magistrate Val Clement-Adams and students from Feltham Community College
For the first time the team from Lampton School won the local heat of the National Magistrates' Court Mock Trial Competition held at Feltham Magistrates' Court on Saturday 6 March 2010. They beat teams from Brentford School for Girls, The Green School, Feltham Community College and Gumley House Convent School.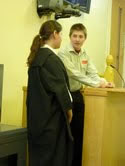 A witness takes the oath in the witness box with the help of the court usher during one of the trials
Each team takes a turn at prosecuting and defending a case involving a defendant accused of possessing a knife. The students are judged on their performances not the outcome of the case. Sheila Evans, deputy bench chairman for Hounslow magistrates congratulated all the teams saying that the standard overall was higher than it has ever been. The winning team will now go onto the regional finals at Wimbledon Magistrates' Court which will be held in May.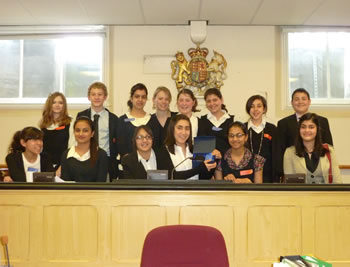 the winning team from Lampton School celebrating their success on the bench
The competition is organised by the Citizenship Foundation (www.citizenshipfoundation.org.uk) in conjunction with the Magistrates' Association (www.magistrates-association.org.uk) and aims to help students to learn about the judicial system.
Full size images are available to view on our web album
March 9, 2010