Celebratory Opening Lunch for Brentford's newest restaurant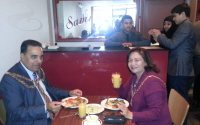 This Sunday saw the Mayor of Hounslow, Councillor Prittam Grewal and the Lady Mayoress (pictured left) visiting Sami's Spice Restaurant for a splendid post-opening lunch, a selection of dishes offered and served by Sahid (below with the Mayor) and his family, owners of Sami's Spice.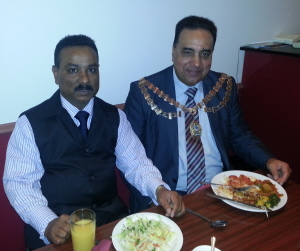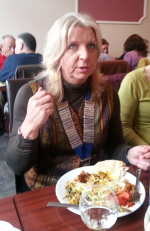 Suzie Betlem, President of the Brentford Chamber of Commerce (pictured left) was present along with a number of members of the Brentford Chamber (including the editor of BrentfordTW8.com) and there was a wide selection of Brentford residents.
Suzie commented: "I can highly recommend this family-run restaurant for their freshly cooked delicious food and friendly welcome. It was a very enjoyable Sunday and nice to see so many local residents, many of whom have already become regular visitors."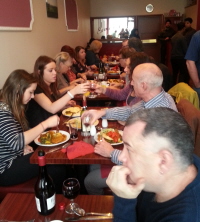 Sami's Spice is next to the Magpie and Crown on the South side of the High Street. It opened a few months ago offering Bangladeshi cuisine. It's not licensed but offers a charge free BYOB service. It's open both lunchtime and in the evening.
125 High Street,
Brentford, TW8 8AT

T: 020 85600 111
November 7, 2012