Public exhibitions and consultation asking you how you like your flightpaths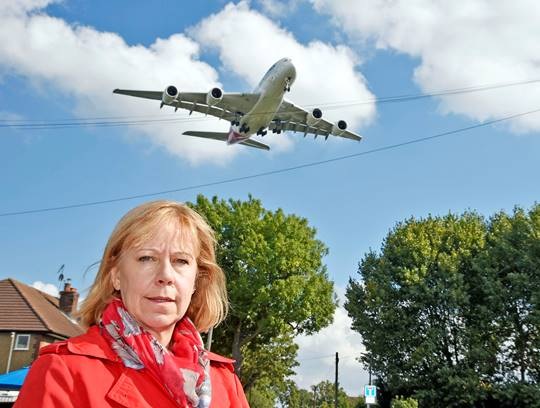 Ruth Cadbury MP under the flightpath
Local residents can find out how Heathrow's short and long-term expansion plans will affect them in consultation exhibitions at the Holiday Inn, Brentford on Fri 22 Feb, 2-8 pm.
Even without a third runway, Heathrow are asking for another extra 25,000 extra flights, which would breach respite periods for those under the existing approach paths.
North Chiswick, Central Brentford, Osterley & north Heston will be under the new approach path of the 3rd runway, if it goes ahead, and will experience much greater noise than at present.
Ruth Cadbury said "We already live in the noisiest environment in the UK, and both proposals are in breach of international noise standards. It's therefore vital that you take part in the consultation, and encourage everyone you know to as well.''
Heathrow will also be holding a public exhibition meeting on the consultation in Ealing Town Hall on Friday 1st February.
The exhibition has a Virtual Reality Sound Demonstration which allows participants to choose from different heights, aircraft type, and background sounds to hear the difference.
If you want more information about the consultation, or assistance, visit HACAN or download their 4 page summary (pdf).
Heathrow consultation and other exhibitions can be found at afo.heathrowconsultation.com/. The consultation closes on 4th March.
January 30, 2019