Brentford supporters have been choosing to stand for decades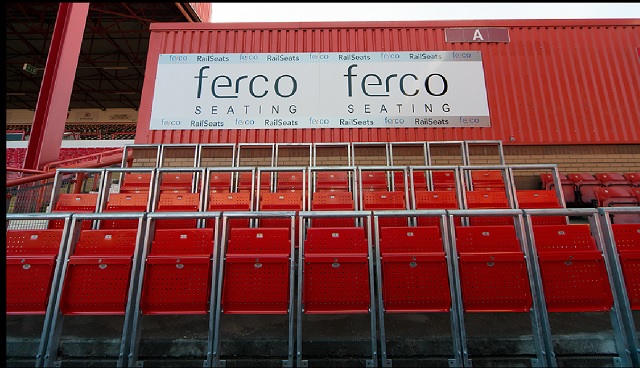 Demonstration of rail seating at Ashton Gate
Ruth Cadbury spoke in the Westminster Hall debate on safe standing, urging the Government to consider changing the rules to allow safe standing and by using Brentford FC as a pilot scheme.
When the 2018/19 season kicks off in August, Brentford Football Club will be the only club in the Championship with standing terraces. In June 2018 the Club received special dispensation to continue standing terraces for another season given that it has started construction work on its new 17,250 seater stadium near Kew Bridge.
Brentford FC has more than 100 years' experience of managing standing terraces and is fully supportive of the recent campaign to change the legislation to allow safe standing in controlled areas in all of the English Football Leagues (as it currently is in Scotland and in the lower leagues of English Football).
Ruth Cadbury said: "I support the Stand up for Choice campaign and would like for Brentford FC to be given the chance to gather evidence to inform the debate when they move to the new stadium. I have seen the rail seats, and I now understand the difference between rail seats and the old-fashioned terraces. There are other clubs around Europe that ​already have standing areas that we can learn from."
"Brentford fans are used to standing, Brentford have designed a brand-new, purpose-built stadium, ready to accommodate dual-purpose seating. They are willing to put in the very latest rail seats to become an effective pilot for standing. They urgently need an indication from the Government before they place orders. On behalf of Brentford FC and fans, I would like the Government to support safe standing."
Chief Executive of Brentford FC, Mark Devlin, recently said: "It is clear to us from our discussions with supporters that Brentford fans want the option to stand to watch their football. New stadiums, and even older grounds like Griffin Park, are now very safe places to attend matches. Safety is paramount whenever we hold a game, procedures are rigorous and all our staff are highly trained.
"There is no real reason that we can see for supporters not to be allowed to stand in certain areas of stadiums."

Ruth has supported the fans involvement at Brentford FC since she was a Councillor at Hounslow and encouraged by colleagues to grant the loan so the supporters could buy out Ron Noades' share of the club.
Over 100,000 people signed the petition to "Allow Premier League and Championship football clubs to introduce safe standing", causing the debate in Parliament.
July 5, 2018