MPs Ruth Cadbury and Seema Malhotra looking for support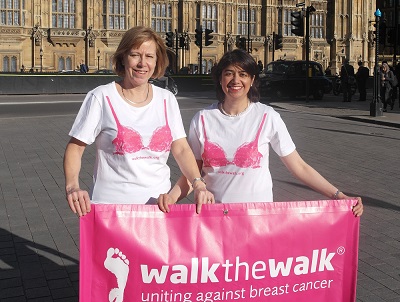 Local MP Ruth Cadbury and adjoining MP Seema Malhotra are calling on local residents to support them as they take on a charity walk in May to raise vital funds for Breast Cancer research. They will be joined by a team of MPs and Members of the House of Lords to walk a moonlit half-marathon at The MoonWalk London 2016 on the night of Saturday 14 May.
The Breast Cancer Now team consists of four MPs and one peer; Ruth Cadbury MP, Jane Ellison MP, Seema Malhotra MP, Mike Freer MP and Baroness Delyth Morgan who is the Chief Executive of Breast Cancer Now.
The team will join 15,000 women and men wearing beautifully decorated bras to power walk their way across London through the night, starting and finishing on Clapham Common.
Walk the Walk's annual flagship event will this year bring a 'Carnival' theme to the streets of London, in celebration of the charity's 20th anniversary, aiming to raise as much money as possible for crucial breast cancer causes and much-needed awareness of the realities of the disease.
The Hounslow MPs hope to raise £4,000 together. To make a donation for Seema Malhotra MP visit: https://goo.gl/iVx5N5 and for Ruth Cadbury MP visit: https://goo.gl/PhV1j1.
Ruth Cadbury MP said, "I am really looking forward to joining thousands of people who will be walking through London to show their support for people affected by breast cancer in the UK."
"One in eight women will unfortunately face breast cancer in their lifetime and I am doing the MoonWalk in honour of all those affected by breast cancer, including my sister and some of my closest friends."
Walk the Walk generously supports the work of Breast Cancer Now and have received £4.2 million over the past five years for the Breast Cancer Now Tissue Bank.
Seema Malhotra MP, Member of Parliament for Feltham & Heston, who did the challenge in 2014, said: "One in eight women will unfortunately face breast cancer in their lifetime. Having had close family and friends in Hounslow suffer from Breast Cancer, I know how vital it is we make progress to better prevent, diagnose, and treat this awful disease."
May 13, 2016