Mayor of Hounslow opens improved riverway and path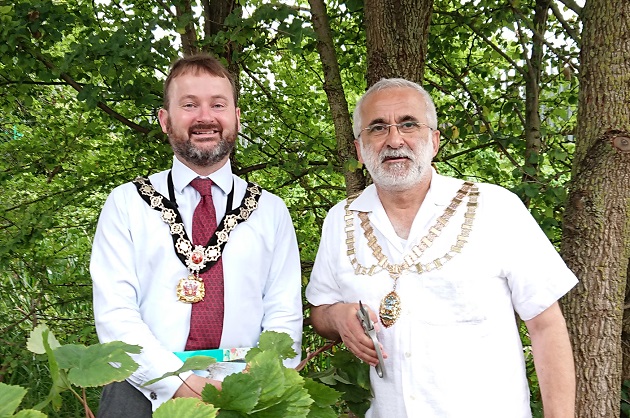 Mayor of Hounslow, Cllr Tony Louki and Deputy Mayor of Richmond, Cllr James Chard cut the vine to open the Duke's River Path
Improvements to the Duke of Northumberland's River have now been completed and the Mayor of Hounslow, Cllr Tony Louki and Deputy Mayor of Richmond Cllr James Chard opened the stretch last week.
The Duke's River runs between Kneller Gardens in Twickenham and Mill Plat in Old Isleworth and was constructed around 500 years ago by monks to power a water mill.. In 2015 a partnership including LB Richmond, LB Hounslow, The Environment Agency and Friends of the River Crane Environment formed under the chairmanship of the Crane Valley Partnership to improve the community and environmental value of this river corridor.
Funding and support has been received from both boroughs; as well as the GLA, EA, Thames Water and the RFU; and this expanded partnership has delivered around £650k of improvements over the last five years.
Cllr Louki said at the ceremony: ""The plants and beasties one encounters along the Duke of Northumberland River never disappoints, today it was two types of sedges, damsel flies, moorhen, perch, dace and beloved heron, the symbol of our town. These vast improvements inside and around this historic working river much of which delivered by volunteers just compounds the pride I have in my borough."
Cllr Samia Chaudhary, Cabinet Member for Leisure Services at Hounslow Council also paid tribute to those involved: "This has been a real team effort so a big thank you to our friends in Richmond Council, the Environment Agency, the Friends of the River Crane Environment, the Crane Valley Partnership plus all the local communities, residents and volunteers who have given their time so generously."
The remaining path works have been completed this summer with the creation of widened walking path along the rear of the RFU stadium and upgraded path surface through Mogden. The launch event is part of the wider London National Park City launch this week.
July 30, 2019