Good food and beer north of the A4
The Lord Nelson has been substantially re-modelled after its change in ownership. Despite no walls being knocked down it feels more spacious, clean and bright, with the precise shade of blue used lifting the whole room.
The awkward furniture has been replaced by a cosy mix of comfy armchairs and chairs alongside more small tables to give it a more relaxed feel.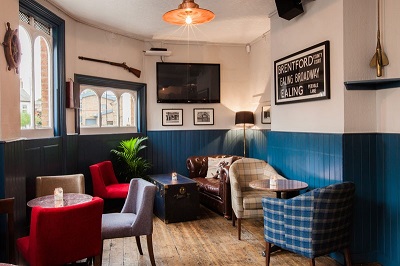 The bar area is a proper bar, with regulars sitting and chatting as they do, providing a nice gentle hum of background conversation. The restaurant area has half the tables as before, again opening up the space and they are all laid making the area more attractive. We were the only diners on the Monday night and it felt comfortable dining alone, in fact so comfortable that we spent 3 hours quietly relaxing over dinner. Service was warm and friendly, striking the right balance between leaving us alone and being too attentive.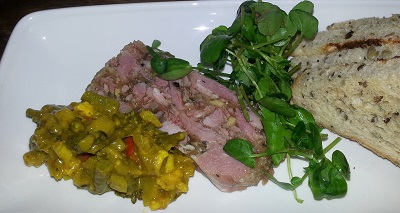 For starters I had Ham hock, ale and ginger terrine with toasted brioche and a superb house piccalilli, that was just right. The terrine fell apart on touch and was very tasty.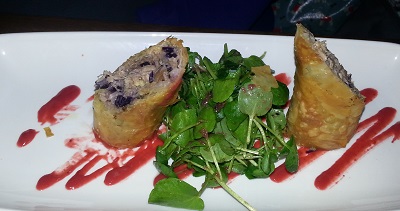 My partner had a confit duck leg roll with spiced plum jam and crispy salad. I'm glad she did as it was perfect. Made with the thinnest and flakiest of pastry that melted in your mouth it was a good taste of duck with a hint of sweet. We both had a light green salad, a bit more than garnish that had a decent dressing.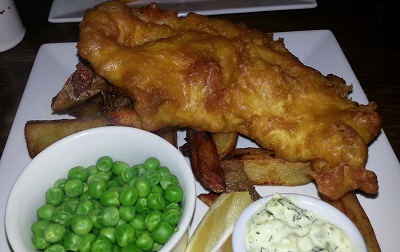 I had London Pride battered haddock with peas, home made tartare and chips. Beer batter is lighter and crisper (due to the carbon dioxide in beer) to normal batter and London Pride serves batter well. The fish itself was moist and flaky. Home made tartare sauce is a treat in itself, with crunchy gherkins, capers and dill making it enjoyable although very tart.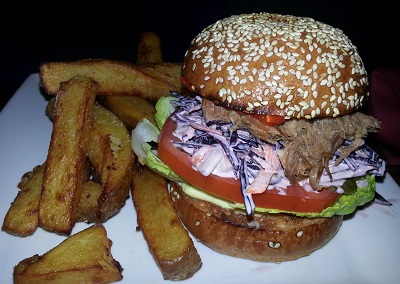 On the other side of the table was a pulled pork bun, described as 10 hour slow cooked pork shoulder, with slaw and hot sauce. There wasn't enough pork in the bun and it didn't taste as much of pork as slow cooked pork should which was disappointing. The coleslaw was home made and tasted so, but would have been better on the side rather than in the bun which also contained a lovely looking slice of beef tomato which unfortunately had a hard core. Both dishes had fat chips with their skin on, beautifully fluffy on the inside, well cooked on the outside but not crunchy.
We paused before pudding, as we didn't really need it. The main courses were of a fair size. The choices for pudding were cider trifle, lavender apple and pear crumble, or chilli upside down pineapple cake with rum and raisin ice cream, all at £4.50 each. We dithered over the choice and decided to share the crumble, mostly out of curiosity, thinking lavender is to be smelled rather than eaten. It turns out that lavender makes your tongue tingly for a good hour after eating so be warned. While the fruit was nicely cooked the crumble could have been thicker and better.
At under £40 for two (excluding drinks) The Lord Nelson offers the best of both worlds, the comfort of restaurant dining mixed with the more relaxed pub atmosphere. The food could be tweaked a little but it's an interesting menu that does include a vegetarian offer for both starters and mains. They also offer a monthly meat free menu with a broader selection. There are four real ales on offer,with the current guest beer being Two Hoots from Joseph Holt (nice but a bit cold). Fuller's new Golden Ale, Oliver's Island is very drinkable. A selection of Brentford's teapig is available. As well as dinner there is a good lunch menu, with sandwiches, nibbles and full meals for the hungry.
April 16, 2015