Consultation on formulating a masterplan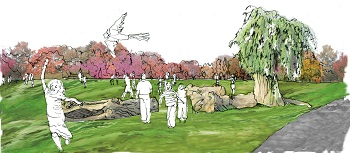 Residents are urged to share their views in a consultation on how Redlees Park can be maintained as a vibrant place to visit for years to come.
The consultation begins this Saturday 5 December and Hounslow Council is looking to produce a masterplan for the park in Isleworth, including feedback it gains from residents and visitors who say how they would like to see the park conserved, managed and maintained.
The plan will look at how the landscape and the environment as a whole can be refreshed, with the aim of helping to increase visitor numbers and enhance facilities as well as look at what else can be introduced there.
It will be focusing on different areas of the park, including the playground, open parkland, park boundaries, signage, pathways and surfaces, existing buildings such as artist studios and sports facilities, as well as looking at conservation, heritage and car parking.
The council has appointed architecture, landscape and urban design consultants Adams & Sutherland to produce the masterplan, with the process expected to take four to five months.
The consultation will run from December 2015 to March 2016.
Following this, the council will then work to explore opportunities which arise from the process and look at how recommendations both short-term and long-term could be implemented as well as identifying further areas to look at.
Councillor Ed Mayne, Cabinet member for Public Health and Leisure said: "Redlees Park is an important part of the community here in the borough.
"Therefore we want to give our residents and all those who visit the park, the chance to tell us how they think we can maintain and improve Redlees Park so it can be enjoyed by many more generations."
Residents have two opportunities to share their views on Saturday 5 December:
From 1pm-3pm at the Redlees Art Studios and Leisure Centre, Redlees Park, Isleworth, TW7 6DW
From 3.30pm-5pm at the Isleworth Christmas market, Isleworth Public Hall, South Street, Isleworth, TW7 7BG.
For further details on the consultation, contact redlees@adams-sutherland.co.uk
Visit Consultation on LB Hounslow
December 4, 2015