Have a January clearout and bring items to your local library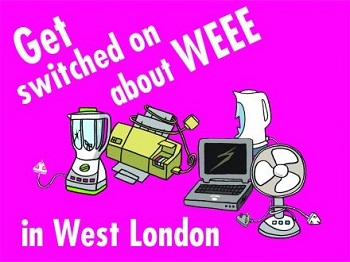 Is your baby bottle-warmer broken? Has your drill died? Is your printer in pieces? Now is the time to clear away those old, broken and unfixable electrical items that you've been hoarding in your cupboards and drawers at home.
West London Waste will have a WEEE collection point at Hounslow Libraries this January. If you have any small electrical items that you have been itching to get rid of, then bring them along on your next trip to the library so we can get rid of them for you! The collection point will be located inside, so please check opening hours.
Examples of items we will take for you include – hairdryers, drills, toasters, game consoles, laptops, blenders, electric toothbrushes, battery operated toys, mobile phones, tablets, wires, cables, small speakers, radios, modems, digital tv boxes, etc – anything that has a plug or works with batteries! All that we ask is that you remove any batteries and separate any ink cartridges from your items before dropping them off as these can be recycled separately.
If you have items that you are not sure about or you want to ask any questions, get in touch with us on 020 8825 9468 or email info@westlondonwaste.gov.uk
Feltham Library Mon 15 Jan – Sat 20 Jan
Hounslow Library Mon 22 Jan – Sun 28 Jan
Isleworth Library Mon 29 Jan – Sat 3 Feb
Chiswick Library Mon 5 Feb –Sat 10 Feb
January 15, 2018