Jason Bowyer, war artist, teacher and Fulham supporter
In the fourth of a series looking at quirky Brentford businesses in partnership with Brentford Chamber of Commerce, we interview Jason Bowyer, renowned portrait artist.
Who are you?

I have lived and worked in Brentford for twenty five years. I was born in Chiswick and went to Chiswick school before Camberwell School of Art and then the Royal Academy Schools. I have really enjoyed living in Brentford and we have many wonderful friends.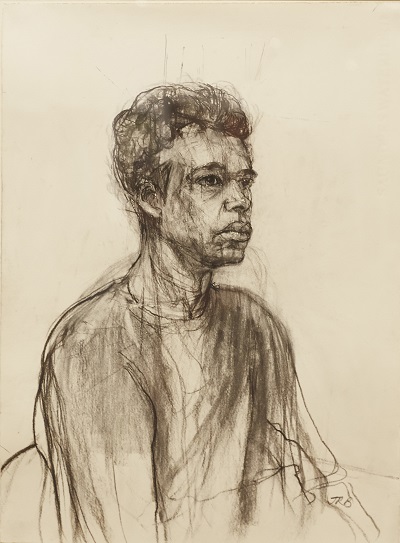 Samuel - 2015 Winner of Prince of Wales Drawing Prize
I am an Artist, teacher and lecturer. I am a painter and draughtsman working in oil paint and mixed media. My paintings are figurative and I work from observation and often on location.
Where is your business in Brentford and how did it get there?

I have a studio at the London Museum of Water and Steam. I have been there for eighteen years. I went to the museum twenty seven years ago soon after leaving my post grad and became the unofficial artist in residence. They had an old oil store converted that I took on as a studio. I think I got my opportunity by just hanging around painting and helping to organise the first 'Made at Kew Bridge exhibition'. I got there by erosion.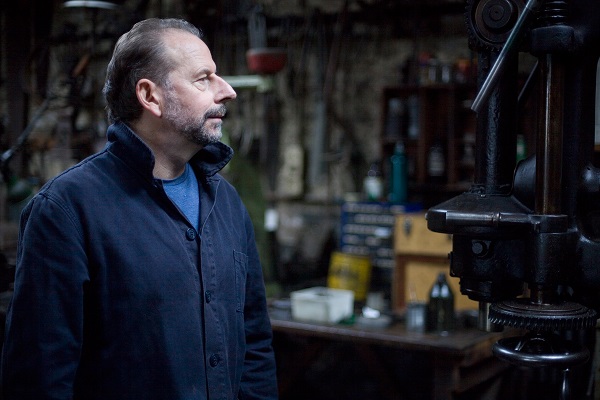 What brought you to this business?

I was the worst mathematician in history and disliked the dullness of trying to pass exams. I went into the art room at school and the bell was ringing almost as soon as I sat down…I thought there must be something in this art study and decided at sixteen it was what I wanted to do.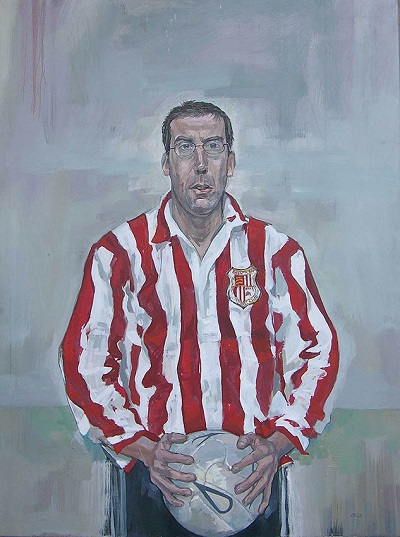 Where do you live and why?

I live in Brentford and am delighted I moved here. The reasons were a pub on nearly every corner, the river, the football club (I love football). It is a real place and is only now being completely re developed. I am trying to embrace this change but I fear the place could lose its character to the town planner and property developers' vision…Far Kew.
What about Brentford helps your business?

I have been able to be near to central London without being crippled by housing and business costs.The people who live in the area are diverse and my contacts have spread across the social and financial spectrum.

How do you like Brentford?

Brentford needs to have more of a sense of irony about its value. It's not Brilliant; it's best dressed in Nylons.
What's your favourite part?

The market square could be its meeting point but we need a statue to a notable Brentfordian. Turner lived in Brentford for two years and made his first watercolour experiments here as a boy.Chiswick has Hogarth but Brentford could have Turner.
How are you involved in the community?
I go to my local and teach from my studio. I have painted a number of local characters at my studio including Eamonn Sylvester in his Brentford shirt to represent a true loyal supporter [see above]. This painting is in the People's Portraits collection in Cambridge. I also painted Greg Dyke [below] while he was chairman of Brentford.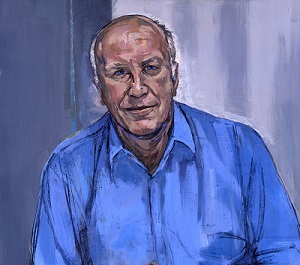 How do you see your future?

Keep on painting and drawing at my studio.
I support my boyhood family club Fulham and when I first came to Brentford Fulham were below Brentford in the League. I was artist in residence at Fulham in the 80s. I have been very impressed with Brentford's rise in recent years but enjoy the ride as the madness created by the money in the premiership de-stabilises most of the clubs that enter the franchise. Yes I did go to the 1-4 match [when Brentford beat Fulham last season] … I also watched Fulham beat Juventus 4-1; things can turn round in football very quickly !!.

Would you move away and if so, why?

Why move away from Brentford, I have everything I need here to develop my work and continue to sell paintings.
Three words describing Brentford?

Bold Beautiful Bonkers.
If you think you have a quirky Brentford business and would like to be profiled please email editor@brentfordtw8.com
July 22, 2015