Great West Quarter to be decorated in 800 colours
One of the country's largest public art commissions is underway at Barratt London's Great West Quarter development in Brentford.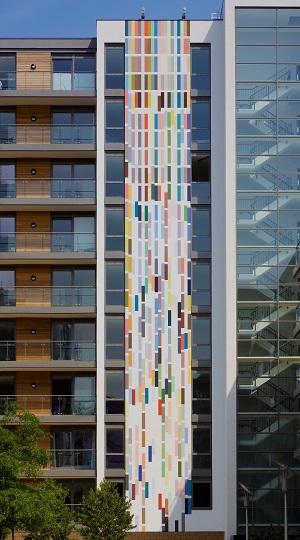 Artist Alison Turnbull has designed a striking artwork titled "Colour Chart Remix TW8 0GL, 2013″. The artist has worked with the Sto (render manufacturer) colour system and has used over 800 separate colours in the piece, to produce a giant artwork which will be embedded in the façade of a new residential tower designed by Assael Architecture, masterplanners of the Great West Quarter development. The work will be clearly visible from the M4 and, hope the developers, will provide a marker for the entrance to London.
Following a lengthy competition process guided by the curators Futurecity and Assael Architecture, renowned artist Alison Turnbull was selected for the GWQ art commission. Known for her unique explorations of colour, order and chaos, Turnbull's proposal will illuminate the façade of a nine-storey apartment building which fronts onto the public piazza. The artwork has been strategically positioned to complete the vista down the western boulevard and, hope the designers, will enhance the architectural sense of place within the piazza.
Turnbull comments: "The notion of a vast, building-sized colour chart using all 800 colours appealed to me. What emerged was, in a sense, a representation of a façade. We tend to animate grids, seeing bricks, windows and buildings in them, rather in the way that we sometimes look for pictures in the shapes of clouds."
Great West Quarter already has a strong design heritage, with the art deco Wallis building at its heart.
August 19, 2013