Raid in Perran Walk and arrest in Southall

Council enforcement staff have helped police take two dealers off the streets in a drug dealing double whammy.
CCTV staff watched two men approach a car in what seemed like a drug-related rendezvous close to the Haverfield Estate. The council's police team, who were in the council's CCTV control room at the time, promptly went to investigate the driver of the vehicle. Despite a police pursuit, the suspected dealer's vehicle failed to stop.
The next day, the vehicle was spotted again alongside three others - and this time the police ensured the driver didn't get away. They uncovered drugs in the car and arrested three men.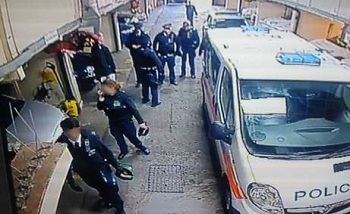 Police raiding properties in Perran Walk
Following this incident, police joined up with Hounslow Council staff to investigate possible drug dealing in the area. In total, eight police officers, guided by three estates enforcement officers, raided a property in Perran Walk, Brentford. Two suspects were arrested, one of which escaped out of a window but subsequently caught by officers. A search at the property uncovered a large quantity of drugs with at the address.
Just days after this result, enforcement officers spotted what they believed was a drug deal taking place on Convent Way, Southall. They used CCTV to track a male suspect while they called the council's police team.
The council's police team were guided to the area by enforcement officers and stopped the male, who was found with drugs. A subsequent search at the man's address uncovered more drugs.
The police arrested the man for possession with intent to supply Class A drugs, as a result of what had been uncovered at the address and the evidence provided by the council's enforcement team.
Councillor Richard Foote said: "This is a great result towards our fight to make our streets safer. Drug dealers are not welcome in our borough and the council's enforcement officers and police's efforts are yielding good results.
"These dealers were blatantly conducting their business on the streets in broad daylight, in full view of law abiding residents and children walking to and from school.
"As well as the legal upshots, these people now also face being evicted from their council home. Rest assured, we will do everything we can to make sure that happens and they lose the right to council housing anywhere else in the borough."
Council Police Sgt Neil Witcombe said: "The council have been very clear in their stance against crime and have been tirelessly assisting the police to proactively target drug and anti-social behaviour issues within Hounslow's estates.
"These incidents show that with this joint working approach we can and will target individuals that commit crime within the estates and make them a safer place for the hard working local residents to live."
February 26, 2016