High Street supermarket applies for Christmas licensing extension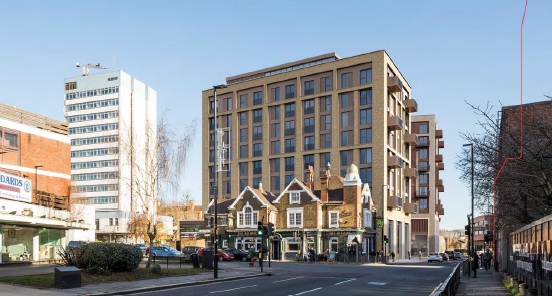 Development from the High Street
Fears that the closure of the Morrisons supermarket on Brentford High Street may be imminent have been allayed somewhat after they submitted an application for the extension of licensing hours over Christmas.
They have recently applied to Hounslow Council for extended licensing hours during the Christmas week, suggesting they may not be expecting to leave soon. The extended hours would apply every year between 20-24 December.
Other than that the retailer has been tight lipped about its plan for the store which will have to close when building work starts on the site.
Planning permission was granted in April for Essential Living's redevelopment of the plot containing Morrisons and the associated car park but this was subject to a complicated S106 agreement which has recently been agreed.
This includes a provision that the owner shall use "reasonable endeavours" to make an alternative temporary food store available during demolition and construction works. If they cannot do this they must make alternative provision such as a shuttle bus, discounted home delivery and alternative pharmacy collection. This must be agreed six months before implementation.
A spokesman for Essential Living said: "We recognise that supermarkets play a vital role in communities and will endeavour to provide an alternative food store on site during construction. If this is not possible, a shuttle bus will be provided enabling local residents to shop elsewhere.
"We can also explore arrangements for increased or discounted home delivery and engage with local health centres to ensure residents' prescriptions are redirected to neighbouring pharmacies."
It is not clear whether the licensing application would be valid for a temporary food store on the site.
June 1, 2018