Friends of St Paul's Recreation Ground urge you to sign

Further to the recent public meeting about the proposed development on Morrisons site, Friends of St Paul's Recreation Ground have got together with other groups to create a leaflet encouraging local residents to respond to the consultation.
They've now followed this up with a petition. If you visited Morrisons over the weekend you will have been met by Friends with clipboards inviting you to sign. The paper petition has already got over 1,000 signatures. Friends say that the people they talked to were overwhelmingly against the development with only two people declining to sign.
There is an online version of the petition which says simply
We the undersigned petition Hounslow Council to REJECT THE PROPOSED DEVELOPMENT FOR THE MORRISONS SITE.
Please do not sign it if you have already signed the paper version but otherwise do sign it before the 20th February.
The leaflet can be downloaded from the Facebook page.
Friends of St Paul's Recreation Ground will meet next Monday 20th February at The Griffin from 7.30pm
Essential Living has distributed a leaflet around Brentford with a further update which is included on their website High St East.
Essential Living's planning application is to demolish the existing supermarket and build a 10 storey high mixed use scheme which will provide a new supermarket and other shops/cafes served by a secure car park and include 225 flats for the private rented sector some of which will be available (25%) at rents at some discount to the full market rate. The Hounslow Local Plan calls for at least 40% of homes in new developments to be affordable.
The supermarket will be of similar size to the current Morrisons, whose lease runs out in 2018. There is as yet no proposed solution to the need for a temporary supermarket during the construction period. The local plan advised a floor space ratio of 75:25 retail to residential use.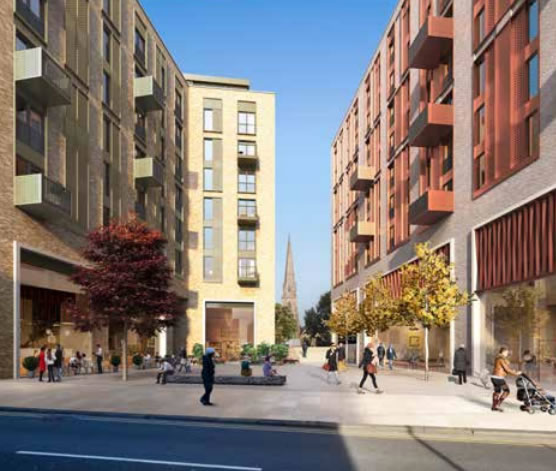 The development will include a piazza which will open up a vista to the spire of St Paul's Church.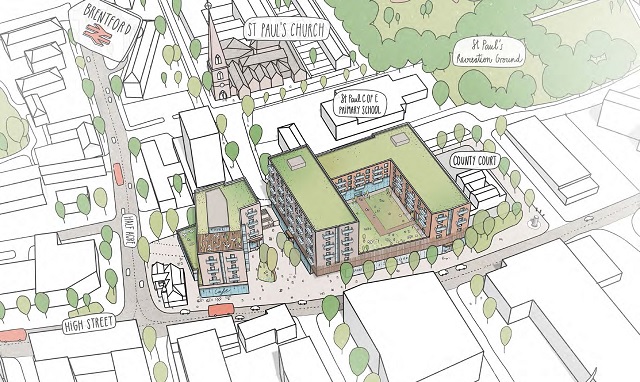 The expectation is that the planning application will be heard at planning committee in March with a 18-24 month construction period starting next autumn.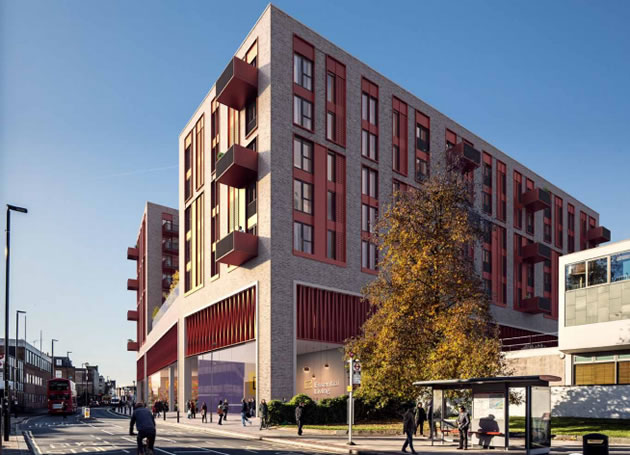 CGI of how the development will look from the High Street
February 14, 2017