Second public exhibition for High Street East
Essential Living are holding a second public exhibition on 8th November about their proposals to redevelop the Morrisons site.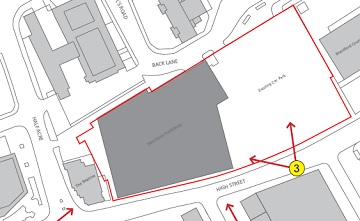 The pictures and plans below are from the first exhibition held in July.
The site comprises the land from the rear of the Beehive to the County Court, including Morrisons and the car park. In Hounslow's Local Plan its proposed use is put at "Retail-led mixed town centre use including residential, with an appropriate level of provision for town centre car parking".
The second exibition is 3:30-7:30pm on Tuesday 8th November at Watermans Arts Centre.
Representatives from Essential Living and the project team will be on hand to answer questions.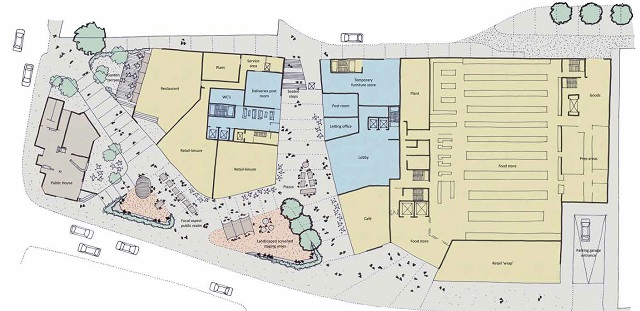 The public realm concept pictured above (click to enlarge) shows the potential layout, with a cafe and retail shop flanking the side of the entrance to the supermarket and a possible restaurant and two shops on the smaller building. Basement car parking for shoppers of a similar size to the current car park will be accessed off the high street.
There will be a pedestrian north-south walk pointing to St Paul's Church and considerable open space including a public performance area. What is gained in public realm will be lost in height, as the concept sketch indicates. Heights aren't specifically mentioned but indications suggest going up to 12 storeys at the tallest.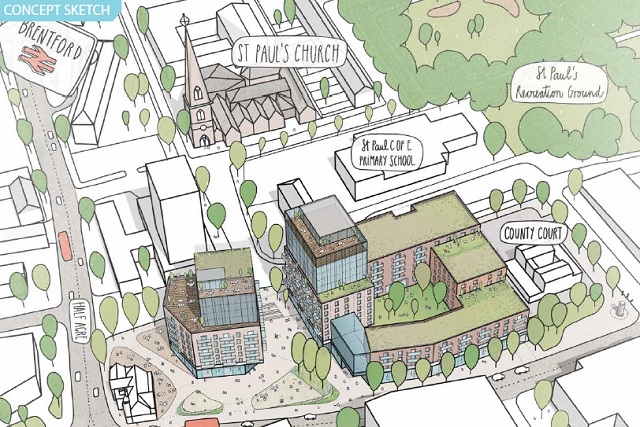 The accommodation will be a mix of studios and 1-3 bed flats, with residential facilities on the top floor and elsewhere. There will be a couryard for the residents sitting on top of the supermarket. All the accommodation is available for rent at market prices although a percentage might be available at more "affordable" rates although no one was willing to define what that meant. Blue badge spaces will be provided but no residential car parking.
The main buildings will be brick-based with "light boxes" above of a much lighter material, providing elements of contrast.
The supermarket will be of similar size to the current Morrisons, whose lease runs out in 2018.
The proposed timetable after this public exhibition will be a planning application in December with the expectation that it will be heard at planning committee next spring with 18-24 month construction period starting next autumn.
Feedback to Essential Living is welcome, whether you attended the exhibition or not to Lousie Page-Jennings at l.page-jennings@connectpa.co.uk or on 020 7592 9592.
October 30, 2016