Area to become 'London's hub for automotive technology'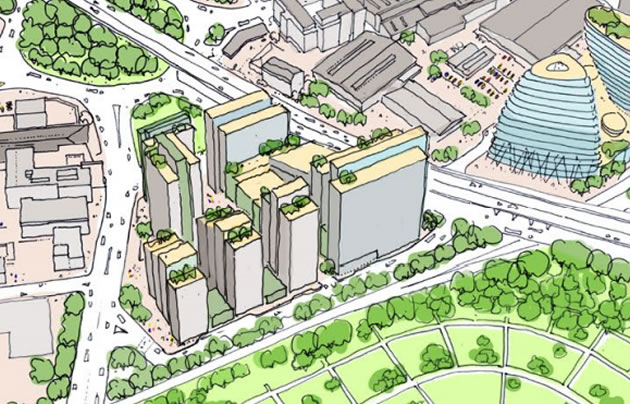 Plans for the proposed development of the B&Q store site near Chiswick Roundabout are to be revealed at a series of public consultation events later this month.
The developers Reef Group working with architects Benoy presented a series of outline plans for 'Hudson Square' back in July 2017 and the new designs will be based on feedback from the initial consultation.
They say in a letter sent out to some local residents and councillors, "Our proposal will deliver the world's first fully integrated customer-centric car showcase, exhibition, gaming and technology experience. At the heart of the scheme will be a new public square surrounded by restaurants, retail, a hotel and residential units. It is envisaged that the scheme will become London's hub for automotive technology generating high-value employment that will revitalise this strategically important location.
The drawings for the outline design showed at least six tower blocks in a mixed use development. No indication was given by the developer as to the likely height of these towers but the drawings suggested that some of them will be as tall or taller than a project at Capital Interchange Way which was being planned at the time. This is also pictured in the drawings and the maximum height there is 22 storeys.
Initially the B&Q development which will be called Hudson Square was to contain two blocks of student housing, a hotel, boutique cinema, car showcase as well as retail and assorted residential including an affordable block of flats. References to student housing, the cinema and affordable flats have not appeared in the details released so far by the developer.

B&Q site (Google)
Local people who attended the exhibition last year raised the issue of air pollution as the site is at the junction of several busy roads, as well as the extra pressure on infrastructure, including public transport. Gunnersbury station would be the nearest underground station to the site and there are already concerns about it operating at over capacity.
Located to the north of Chiswick Roundabout, the site is bordered by the Great West Road, Larch Drive, the North Circular Road and Gunnersbury Park to the north. It is approximately 1.6 hectares in size. It was once home to the Hudson Motor Company and played a key role in the industrial formation of the Great West Road, with purpose built premises for the company established on the site in 1926.
The exhibition takes place at The Musical Museum, 399 High Street, Brentford TW8 0DU on Tuesday 19 March (3:30–7:30pm) and Thursday 21 March (3:30pm– 7:30pm) .
Feedback / contact: hudsonssquare@yourshout.org hudsonsquare.co.uk 0800 955 1042 or 020 7587 3049 or by post to FREEPOST RTXU-JGSR-KHLE, Hudson square consultation, Your Shout, 312 China Works, Black Prince Road, London SE1 7SJ
There is a website at hudsonwest.co.uk with the above information.
March 13, 2019