Landscape design submitted for link to Robin Grove recreation ground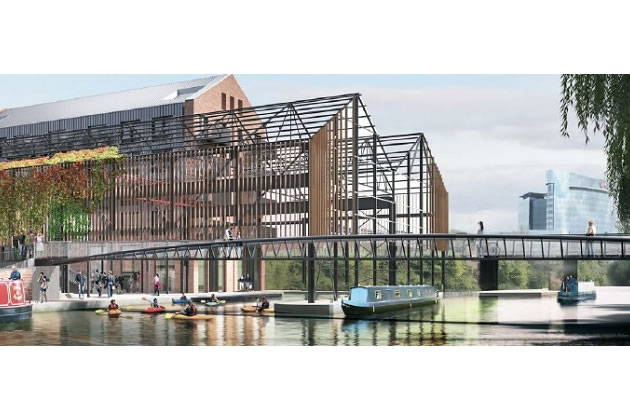 The long delayed plan for a new bridge in Brentford looks to have moved a step closer with the submission of a detailed landscape design.
Brentford Lock West gained permission for a scheme to repair and restore the warehouse buildings opposite the Robin Grove Recreation ground in a development that would include housing and a restaurant and café in 2016.
Part of the supporting infrastructure was a pedestrian/cycle bridge that would providing a link to Brentford train station and onwards to the town centre. It will span Grand Union Canal, landing in Canal Square on the south west side, and in Robin Grove recreation ground on the north east side.
A detailed landscape design for the bridge has now been submitted to the council for approval. The landscape around the bridge landing points on both sides of the canal have been designed with the aim of integrating the bridge ramps into the landscape, minimising the visual impact
whilst maintaining safety and accessibility.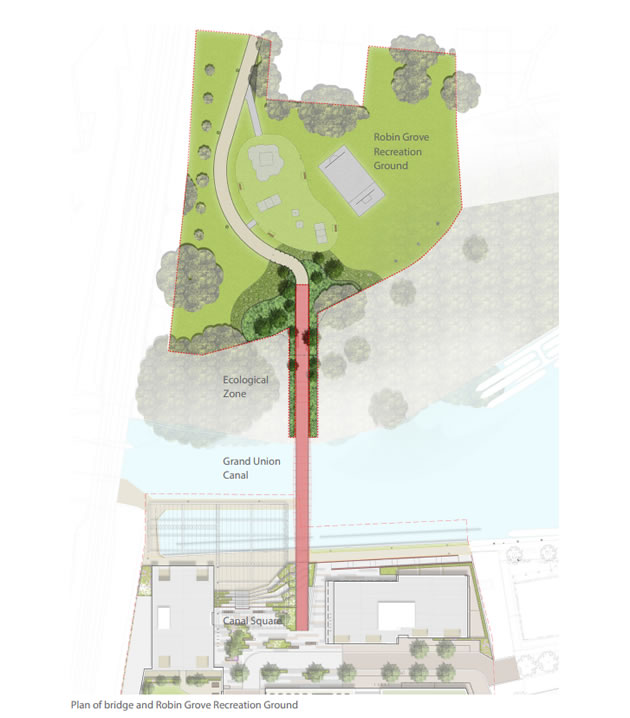 Design from the developer's application
A path will lead from bridge landing, around the existing play area and its associated fencing, through the recreation space and out to the gate, providing pedestrian accessibility to Robin Grove.
A planting strategy within Robin Grove Recreation Ground is to provide screening to the landing of the new bridge, and aims to soften the localised earthworks associated with the landing point.
Phase three of Brentford Lock West will include 452 new homes with 187 affordable, alongside commercial / retail space as well as the new bridge.
The new crossing will open before this phase is complete and Waterside Places are also contributing funds towards lighting, CCTV and landscaping improvements at Robin Grove Recreation Ground.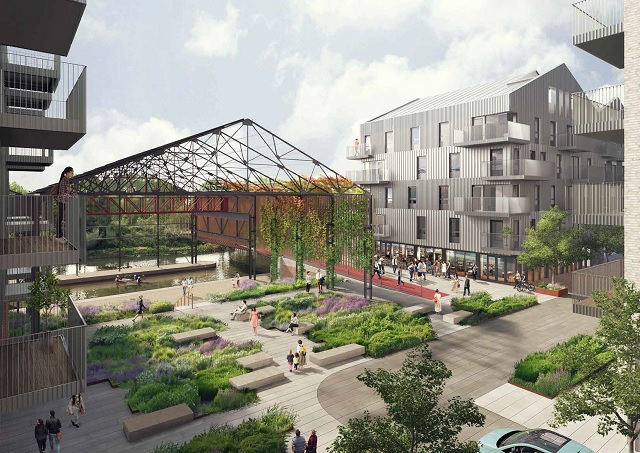 A new public square will be fronted by commercial and retail spaces, along with a new frame overhanging the canal which mirrors the existing overhanging warehouse and recognises the industrial heritage of the area. Towpath improvements, new mooring facilities and the renovation of the existing dock will enhance this stretch of the waterway. To promote sports and leisure activities, new community facilities will be provided for use by local sports clubs.
As part of the Brentford Lock West development, a new bus depot will also be provided on Commerce Road to replacing the existing Metrolink facility on the same site.
Full documentation can be downloaded from planning.hounslow.gov.uk (system number P/2018/2168 or planning number 00297/R/P15) or (system number P/2018/2168 or planning number 00297/R/P16 for landscaping and the bridge).
October 30, 2020