Taking over Grasshoppers existing site
Bolder Academy has confirmed plans for a public consultation on proposals to build a new co-educational, non-denominational and non-selective secondary school for local children in Hounslow. Plans were delayed for a year.
The Bolder Academy will be a new mixed gender, multi-faith, all-ability secondary school to meet local demand for school places. It is being set up by local head teachers, who are working together as part of the Hounslow Education Improvement Partnership.
The site selected is the current Grasshoppers Rugby Club site on Macfarlane Lane. The rugby club is in the process of moving to a new site with new facilities on the Conquest Club site. The school will reuse much of the land already developed to provide the school buildings, in order to preserve as much of the openness of the site as possible.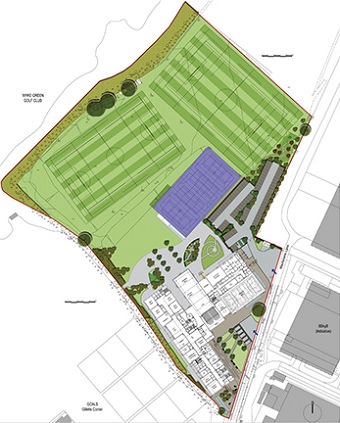 The design being consulted on retains two of the existing rugby pitches for sporting use and provides additional community facilities including, a four court Multi Use Games Area (MUGA), an indoor sports hall and studio as well as classrooms for adult education. The community use of these facilities outside school hours will be secured by a Community Use Agreement.
The school is inviting interested parties to attend public exhibitions on the proposals on:
Wednesday 1st March, from 3pm until 7pm at the Holiday Inn, Brentford Lock, Commerce Road, TW8 8GA; and
Saturday 4th March, from 10am until 1pm at Brentford Free Church, Boston Manor Road, TW8 8DB
Saturday 4th March, from 2:30pm until 4:30pm at St Francis of Assisi, 865 Great West Road, Isleworth, TW7 5PD
A spokesman from the Bolder Academy Trust said:

"We are really excited to invite local residents to look at our planning proposals and feed into our project. We know there are lots of parents locally concerned about secondary school places and we really hope people will support the proposals for the Bolder Academy.
"This school has set up by local head teachers and is designed to serve the local community. If we get the go-ahead from the community, the school will play a vital role in ensuring there are enough school places for our students."
Councillor Tom Bruce, Lead Member for Education and Children Services, Hounslow Council said:
"We are delighted to be bringing forward a plan for Bolder Academy, as this will enable the borough to provide additional high quality school places and ensure every child in Hounslow has access to an outstanding education.
"This exciting project will secure the school's future and bring a wide range of benefits to our young people and the wider community. I hope that residents will take the opportunity to call in to see the plans."
More information is also available at www.planningbolder.org.uk
The school will be a 6 form entry for 11-16 and provide post-16 education for 250 students as well as providing a specialist centre for 25 SEN children.
The expectation is that the school will be open in September 2018 and you can register your interest for a place now.
March 2, 2017