Five storey block will contain nine flats and two shops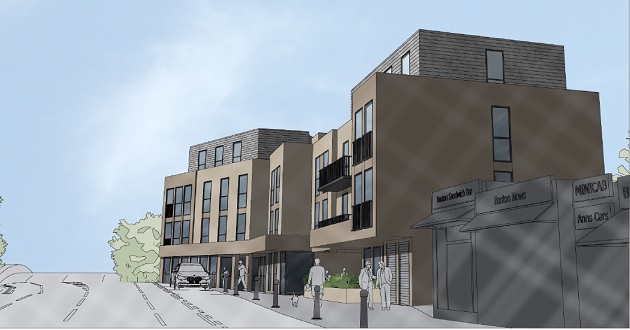 Hounslow Council planners are recommending that a plan to build nine flats above new shops on the land next to Boston Sandwich Bar on Boston Manor Road be approved.
The new building on Station Parade would be a part four, part five storey block with the retail units on the ground floor.
The planners describe the accommodation to be provided good quality and generous in size and say the scheme would contribute positively to the character of the surrounding area, would not harm neighbouring residents and would be a sustainable development. They added that the new shops would help to bring more footfall to the existing parade and would not impact on Brentford Town Centre.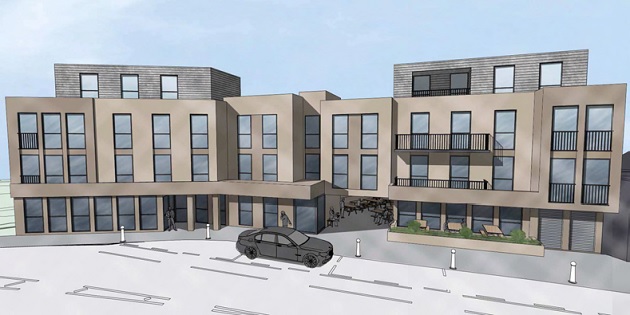 There will be 2 x 1 bed, 4 x 2 bed, 2 x 3 bed and 1 x 4 bed flats
There were 76 objections to the project as well as two petitions signed by 144 people. The grounds for objecting included excessive height, loss of privacy, disruption from the construction, over density of development and lack of services in the area as well as parking problems that may arise. It was also argued that the open space at the existing site should be preserved. The council planning team rejected these objections.
The application has been made on behalf of Kearns Premier Homes by Amasia Architexts Ltd a firm based in Guildford. They say the scale and architectural style of the proposal 'have been informed by in-depth discussions with the Local Planning Authority'.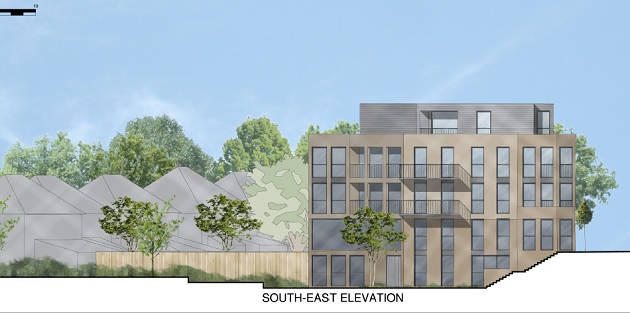 South-east elevation showing Church Walk houses in outline
The site is not located in a conservation area, although it is adjacent to St Paul's Brentford Conservation Area on the opposite side of the railway.
An earlier proposal discussed with council planners was for an eight storey building containing twenty flats.
The recommendation of the council planners is that the application be approved subject to a few technical conditions. It is due to be considered by the planning committee at a forthcoming council virtual council planning meeting.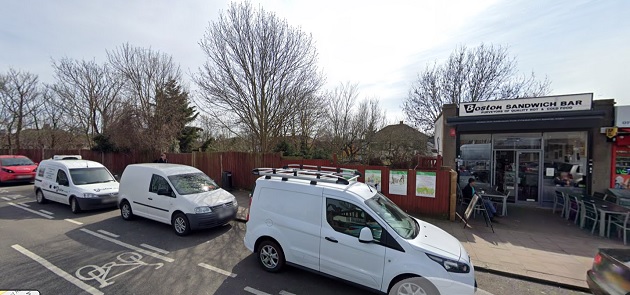 existing site (Google Street View)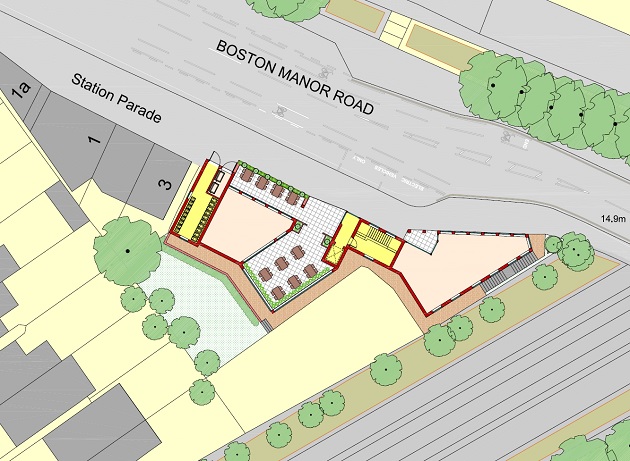 Proposed ground floor with retail units (pale cream) and residential access (yellow)
September 25, 2020