View the proposals before planning application submitted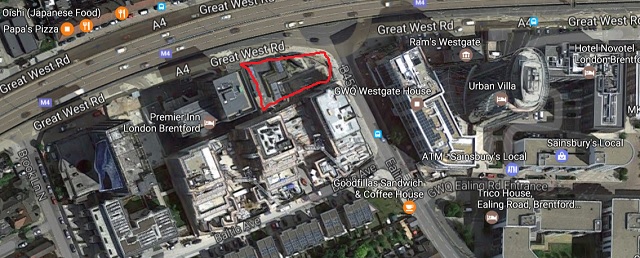 Vacant site on corner of Ealing Road and A4
Residents are invited to a Public Exhibition of proposals for the vacant site at the corner of Ealing Road and Great West Road (adjacent to the Premier Inn).
The site forms part of a wider development site granted planning permission in August 2013 which granted planning permission for an office building on this site (P/2011/1133). The other buildings on the wider site have now been built.

The new office building proposal is designed by Farrells Architects, an internationally renowned architectural practice with a proven track record in the design of buildings with significant architectural merit.

Before submitting a planning application, Concept Business Group (CBG) would like to hear your comments on the proposals and would welcome the opportunity of discussing the proposals with you.
On Friday 24th March, from 12 noon – 8.00pm
at Novotel Hotel, Great West Road
If you are not able to attend and would like further information, please contact Jessica Webster on jwebster@quatro-pr.co.uk or call her on 020 7566 7973.

A letter to this effect is going out to about 1,600 residents today.
March 10, 2017