Landmark building proposed for the M4 approach to Chiswick roundabout
A new proposal has been put forward for a landmark building containing Metroline's relocated bus garage on the Chiswick Roundabout approach.
Ever since ISIS put forward their plan for their development on Commerce Road, now called Brentford Lock West there have been suggestions of putting a school where the bus garage is, at the top of Commerce Road.
One of the main impediments to this idea has been finding an alternative location for a bus garage that is suitable for the traffic requirements.
The Golden Mile Site Capacity Study suggests the need for icons with "several buildings at key locations adjacent to the M4 will become the new icons for the corridor, the memorable buildings that help to define the Golden Mile's future image and dramatically changing the gateway into West London from the M4.
"These buildings will be unique in their form and architectural expression and relate to both the city scale of the M4 and the more local scale of the Great West Road."
So here is very early concept art of what an iconic bus garage might look like from the M4, with the proposed Octopus building to the left. Access will be via Capital Interchange Way.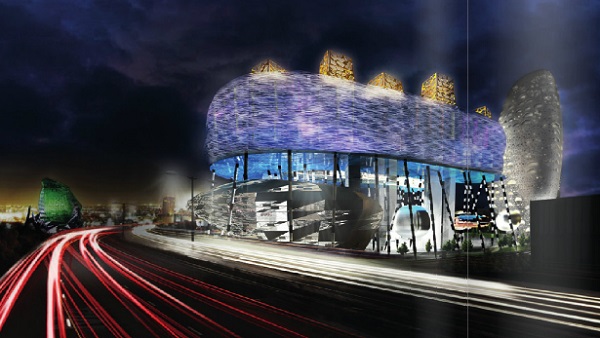 The building would comprise a bus garage with (yet another) car showroom on top. On top of that will be a mixture of hotel and residential.
This early design is by Will Alsop, a prominent architect who has won awards for Peckham Library and the Sharp Centre for Design, Toronto. The latter uses supporting columns in a similar way as is proposed for this one, as can be seen from this view from the other side: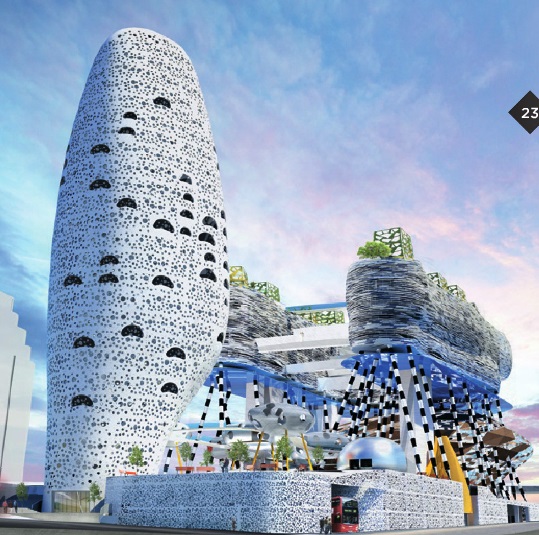 This is in the very early stages of design and still has to be fully consulted on and planning applications put in. It won't please everyone but is certainly iconic.

April 15, 2015