Middle East expert Vyvyan Kinross on a remarkable family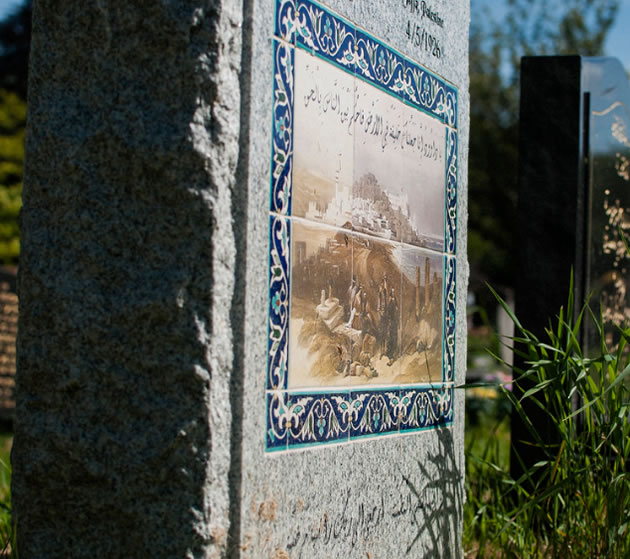 The 70th anniversary of the founding of the state of Israel (14th May 1948) offers pause for reflection. For Palestinians, the following day marks the Nakba – or Catastrophe – the moment when some 700,000 people were displaced from their homes cut off by the new Jewish state and forced to relocate, some within Palestine, others to refugee camps in Jordan and Lebanon and still more destined for a new life in a distant country.
Many Palestinian people, some British educated and trained, sought shelter in London, a city known at that time for its tolerance and acceptance of political refugees and victims of persecution.
Like other refugees, Palestinians in London always hoped and planned to go home. But very few have been able to travel back to the land of their birth or the homes and businesses they left there in 1948.
Seventy years on from the Nakba, and successive generations of Palestinian families have now lived and passed away here.
They do not lie in cemeteries that look out over the olive groves and hills of Palestine but instead share the soil with other displaced communities who have made the British capital their home, amongst them Armenians, Iraqis, Poles, Georgians, Romanians and Iranians.
Gunnersbury Cemetery, which sits in an unpromising fold of the A4 and North Circular Road just north of the Chiswick roundabout in the Borough of Hounslow, is one such place. A peaceful, bucolic haven in the late Spring sunshine, full of majestic trees, elegant flower beds and winding pathways, it houses at its western end the controversial Katyn Memorial which commemorates the executions in 1940 of 14,500 Polish prisoners of war by Russia's NKVD police.
It has other notable residents, too, among them British movie director Sir Carol Reed (The Third Man 1949) and 13 month old Geraldine Evans and her mother Beryl, murdered by John Christie at the notorious 10 Rillington Place.
Amongst the famous, the infamous and plain anonymous, there are those born or raised in ancient Palestinian cities that include Jerusalem and Jaffa, the east Mediterranean port occupied in the 12th century by both Saladin and Richard the Lionheart.
One family that made the long journey from Jaffa to Gunnersbury is that of the eminent Palestinian physician Dr Fouad Dajani, famous in British Mandate Palestine for founding in 1933 the first Palestinian private hospital which both employed and treated Arabs and Jews equally. In 1948 the hospital was taken over by the Municipality of Tel Aviv-Jaffa and has since become a geriatric centre.
Though Dr Dajani himself died in Jaffa in 1940 before the Nakba, members of his family were only able to return to the city in February 2012 when the Municipality, in a rare moment of co-operation and sensitivity in a divided land, held a ceremony to rename the city's main roundabout after Dr Dajani, one of its most famous Arab residents.
Now his widow Fa'ika Fahmi Al Husseini, born in Jaffa in 1908, lies in Gunnersbury Cemetery next to her daughter Salma, herself the subject of the documentary film 'Four Friends' made by Israeli director Esther Dar in 1998 about four girlfriends, two Palestinians and two Jews, who together attended an Anglican boarding school in 1939 during the British Palestine Mandate years. The film – and his own mother's part in it – was recalled by Palestinian author Raja Shehadeh in a piece he wrote for the New York Times to mark the naming ceremony for the roundabout (Ref: New York Times, 29th Feb 2012).
The lives of other family members laid to rest in Gunnersbury Cemetery reveal that becoming a refugee does not mean the end of everything; their stories offer hope for those, like many Syrians and Afghans lately dispossessed by conflict, destined to start again in a foreign land.
Dr Fayek Dajani, who died in 2004, is remembered as 'a distinguished, charismatic Palestinian born doctor who rose to become a successful and prosperous Harley Street physician (Ref: British Medical Journal obit). And Talaat Dajani, who passed away in 1992, received an MBE in 1979 for services as an advisor at the Middle East Centre for Arabic Studies in Lebanon.
Against the odds the family, like many refugees and displaced people across the world, has found a way to survive and the capacity never to forget, leaving so many human stories under the spreading trees and amidst the flowers.
Vyvyan Kinross is a writer and PR specialist who has worked extensively in the Middle East, including Palestine. He is on the Executive Board of the Council for Arab British Understanding (Caabu) and is a resident of Chiswick. He tweets at: @vyvyankinross
May 25, 2018