Attendees were overwhelmingly against the runway


Rob Gray, Heathrow Airpor Ltd (for) and John Stewart, HACAN chair (against)

OWGRA (Osterley & Wyke Green Residents' Association) held a Public Meeting on Tuesday 10 October 2017 at the Isleworth & Syon School for Boys.

The subject of the meeting was 'Heathrow 3rd Runway - For or Against'.
Rob Gray from Heathrow Airport Ltd put the case for the runway and John Stewart from the campaign against the expansion (HACAN) spoke against. The audience of some 80 local residents listened to both presentations with attention.

Audience participation in the Q&A session that followed was of a high level with a range of pertinent questions being directed at both the presenters, who responded during a Q&A session of some 45 minutes. Most of the contributions were from residents opposed to the expansion but some also spoke in favour. In all cases, whether for or against, those contributing supported their views with substantial arguments making it a real debate.

Concluding the meeting, OWGRA conducted a survey of opinion amongst those attending, the results of which indicated that 71% were against the 3rd runway and 20% in favour with 9% still 'undecided'. These results will be published on the OWGRA website and a full recording of the meeting can be found on the website at www.owgra.org.uk.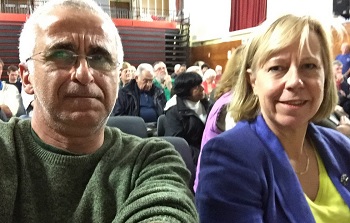 Our local MP Ruth Cadbury and local Ward Councillor Tony Louki were both present.

At the end of the proceedings OWGRA Chairman Cliff Assi thanked the presenters and all those attending for what is deemed to have been a very worthwhile and stimulating occasion.
OWGRA - Osterley and Wyke Green Residents' Association
October 20, 2017