Outside Isleworth Post Office in honour of Mo Farah's 10,000m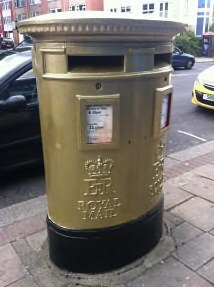 To mark Mo Farah's gold medal winning performance (10,000m), Royal Mail has painted a post box outside Isleworth Post Office gold.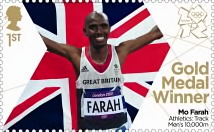 The UK is believed to be the first country to paint post boxes gold to celebrate Olympic and Paralympic gold medal wins. This will also be the first occasion in modern times when Royal Mail has changed the colour of its post boxes. Red has been the standard colour for UK boxes from 1874, with few exceptions

A dedicated team has been on standby to transform the specially selected post boxes within days of a win.

The gold boxes will remain in use and customers will be able to post mail in these boxes as normal. Mail collections from the boxes will also be unaffected. The boxes will be repainted in Royal Mail's traditional red in due course.

Royal Mail demonstrated how the boxes will change from red to gold by painting a box in near to Westminster Abbey, London.

Post boxes will not be the only things turning gold this summer. Royal Mail will issue special stamps to celebrate each Team GB gold medal win at the London 2012 Games. Team GB Gold Medal stamps will be produced capturing an action image of each Team GB member or team that wins gold this summer.

Royal Mail will also be the first postal administration to commemorate the gold medal wins of the national Paralympic team by featuring them on a set of six special stamps. Each stamp will feature a different group of ParalympicsGB gold medal winners. These stamps will be available for sale in over 5.200 Post Office branches from 27 September 2012.
August 9, 2012