Thousands line the streets as the Flame enters the borough
Thousands of people from Brentford lined the streets today (July 24) as the Olympic Flame passed into the borough of Hounslow in bright summer sunshine.
Tiny children were held high and workers at the top of apartment blocks had a bird's eye view as everyone strained to get a glimpse of the Olympic Flame, which arrived at Kew Bridge just after 11.20 am.
As the traffic was halted by police, drivers climbed onto cars to get a look and residents in nearby flats waved out of their windows.
Cheering and flag-waving started as the advance guard of floats and police motorbike escorts arrived at around 11.15 and waved at the crowd. The torch relay bearer then came into view a few minutes later to loud cheers and beeping of car horns. Soon after this the entourage turned on the bridge towards Brentford, heading towards Hounslow, where the fun really began. Hounslow high Street was lined with people three deep to witness the historic flame passing through the streets. Buzz Bee made a surprise appearance to cheer on the runners and the Carnival atmosphere carried on long after the torch departed for Isleworth!
Events as they Happened
1050: Out of view, inside Palm House, John Harding will take the flame before handing it to Oli Golding, who will carry the flame to The Orangery and the Olympic rings flower display. Oli is a Youth Olympic Games Gold medallist, having won gold in the Boys' Doubles event in tennis at the 2010 Summer Youth Olympic Games.
1055: A normally sedate Kew crowd runs towards the torchbearer stood inside the Olympic rings - cameras & phones aloft. BBC 2012's Christine Jeavans says that it is "Scorching in the middle of the floral Olympic rings at Kew Gardens."
1113: The first runner after our stop in a gloriously sunny Kew is Paul Woodham who devotes his annual leave to taking severely disabled children on holiday with the charity SENSE. He also has a leadership role with the local Samaritans group.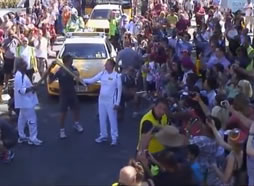 Paul Woodham hands the torch to Gurpal Virdi just before Kew Bridge.
1121: Next up is Gurpal Virdi who in 1982 became the first Asian person to join the Metropolitan Police service from Hounslow Borough and this year decided to retire after giving 30 years of service. He was sacked in 2000 after being wrongly accused of sending racist hate mail to black and Asian colleagues and was reinstated after winning a landmark case against the Met later that year. In his spare time he does voluntary work - giving talks to young people to steer them away from crime. Mr. Virdi does an excellent job taking the flame across the centre of Kew Bridge and on past the famous Steam Museum.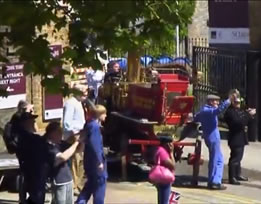 Steam Museum staff come out to greet the torch.
1122: After doing a double leg he hands over to Raymond Oxlade who's nomination says: "He may not have a Nobel Prize or a knighthood to his name, but my dad always gives of his best and encourages others to do the same. He is a keen runner and has completed three marathons and numerous half marathons."
1130: Running now is Daniel Devitt, 45, from Hackney. He was chosen in recognition of his work fighting health inequalities and social exclusion.
Robert Cumber tweets: "Crowds now two or three deep along most of Hounslow High St for #torchrelay. Lots of home made torches on display #hounslowtorch."
1138: Brentford is Brilliant - that's what the banner says. And who can argue with this impressive turn out?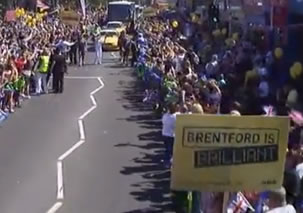 The High Street is packed with locals eager to see the torch and the Carnival atmosphere is in full swing!
1138: David Ramsey, who has a learning disability, epilepsy and cerebral palsy, is an active member of the community access service in Hounslow and in particular loves kayaking and gardening. He has the torch and the crowd goes wild - he's waving back and loving his moment in the spotlight.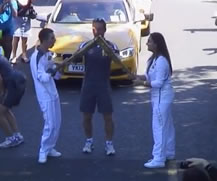 David Ramsey hands the torch on after completing his leg.
1157: Ann Beatty takes over for her stint on the torch. She took a sabbatical from work to teach in Sierra Leone and after returning to the UK she raised £3,000 to build a well in the village she had visited. This inspired her to take a year out travelling, during which time she went back to Sierra Leone to help set up a safe house for girls in Maronka.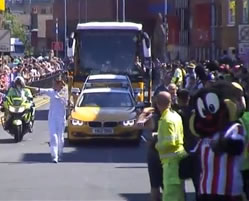 Brentford FC's mascot, Buzz Bee, joined in the celebrations.
July 26, 2012