Torchbearer created running group that got mums moving
Isleworth resident Dr Siobhan Strike will be carrying the torch for Hounslow borough after being selected as a torchbearer for the Olympic Games.
She joins an exclusive club of 7600 people across the country who will carry the flame on its journey to the Olympic Stadium, and she will be running through the streets of Hounslow as the Torch relay passes through the borough on 24 July.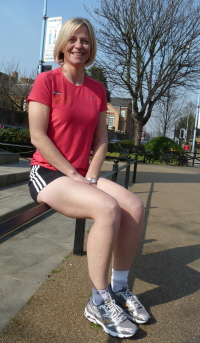 Dr Siobhan Strike said:
"I was enormously excited when I heard I'd been selected. It's a massive privilege and really great to be part of the Olympic spirit."
A senior lecturer at Roehampton university in Richmond, Siobhan is an exceptional role model to her students, but she was nominated as a torchbearer for her remarkable achievement and community spirit outside of work.
Her nomination citation said:
'Siobhan has been a truly inspirational figure for many mums / women in our community. 18 months ago, she encouraged a number of middle-aged mums to start a small running group. To begin with, the majority couldn't run more than 400m. Siobhan was so enthusiastic and motivational, she slowly built up the confidence of the group and within weeks we were running a couple of times a week and set ourselves a goal to run 5K for the Race for Life.
'As our confidence grew, so did the size of the group. Friends of friends came along and Siobhan was amazing in her ability to motivate the new runners but also push the more able to achieve their best. Siobhan is responsible for encouraging women to start exercising and feeling better about themselves, realising that you can do anything you set your sights on.'
In June 2010, over 30 of the group ran the 5K Race for Life in Richmond. Since then, the group has continued to grow and Siobhan has encouraged some of the runners to complete a 10K run for charity, as well as setting up a group to train for a triathalon which they completed last May.
Siobhan continued:
"I was always involved in sport and wanted to share that enthusiasm, which is why I set up the mums' group. What I'm most proud of is that they are still going strong, even though I'm not as involved. It's a wonderful lasting legacy for me."
The council is encouraging everyone to come out and line the streets to cheer on Siobhan and all the other runners in the Hounslow leg of the relay on Tuesday 24 July. There will also be three community events along the route in Brentford, Hounslow and Lampton Park, and more details will be available in the coming weeks.
For more information on Olympic-related activity in the borough, visit www.hounslow.gov.uk/olympics.
March 23, 2012