Autumn Food Festival at Londonís favourite organic health food shop
Thursday 10th October, 6pm-8pm Come and sample a tantalising variety of organic food and drink and meet a dozen small, local food producers, with free organic wine served all night!
PLUS:
Oliver's 24th Birthday Celebrations at the store on Saturday 2nd November (12pm-6pm)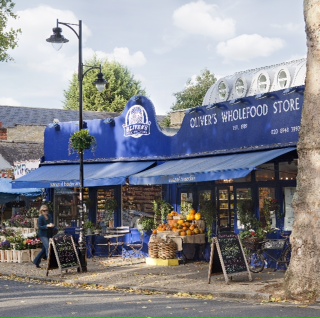 London's favourite organic health food shop - Oliver's Wholefoods Store in the vibrant vicinity of Kew Gardens - has plenty of juicy events in store to whet your appetite this autumn, starting with the hotly anticipated Autumn Food Festival on Thursday 10th October (6-8pm).
Sara Novakovic, Owner of Oliver's Wholefoods Store says:
"Our Autumn Food Festival is a fantastic opportunity to come and meet a selection of our favourite local suppliers and sample some of their delicious fare. On October 10th, we'll have 16 tables offering a scrumptious range of foods to taste, from 16 suppliers. We'll also be serving free organic wine all night! Our food festival taster events are always packed, so be sure to arrive early to ensure your place at the feast!"
The award-winning Oliver's Wholefoods Store has been in the heart of Kew Village for almost quarter of a century, selling quality organic food, natural remedies, skincare and textiles. The store is also a haven for natural health aficionados having developed a powerful line-up of fully-trained health professionals, nutritionists, homeopaths and beauty therapists, on hand to give free advice.
The celebrated independent, community store - renowned for its vast and diverse product range, cheerful customer service and fount of information about nutrition, health and sustainability - regularly attracts customers from all over London as well as further afield places like Oxford, Guildford and Brighton. It's also a favourite with local celebrities and counts Jerry Hall, Gaby Logan, Lawrence Dallaglio and Keira Knightley among its local customers.
Britain's leading UK health author, Patrick Holford, is also a fan, he says: "Oliver's – my favourite health food shop, not just the selection but the staff are a delight. "
Oliver's Wholefoods Store sources its goods from small and independent companies, one woman bands, and cooperatives who produce food on a human scale. Their suppliers haven't compromised on raw ingredients, method or the time it takes to make their products properly which is often a very slow process.
Sara Novakovic says: "The food is tastier, and we believe, so much better for you. It's also better for all those involved in getting the food from the field to your fork. Trading this way helps build communities, nourish traditions and encourage innovation, helping the countryside to keep buzzing with life. "
Zac Goldsmith, local MP for Richmond Park, says:
"Oliver's Wholefoods Store is a fantastic example of a small local business that lives and breathes its organic values. It makes a point of working with small-scale suppliers, and helps support meaningful employment for producers of real food."
Yummy organic treats in store at Oliver's Wholefoods Store's Autumn Food Festival on Thursday 10th October include bakery and sweet treats from Gusto and Relish (a local deli in Barnes), piping hot pumpkin soup, raw chocolate, frozen fruit sorbets and botanically brewed beverages. Graham Fletcher from Borough Market will be cooking up a storm serving bangers and burgers and pasture grown meats from the Rhug Estate in Wales, and you'll also find out how tempting tofu can be! Lush Organic wine and elderflower and mint cordial will be served throughout the evening.
A one stop organic grocer and off license, Oliver's stocks fresh organic fruit, vegetables, meat, fish, bread, cheeses and delicious food to go – all delivered daily. The shelves and fridges heave with an acclaimed choice of quality organic and fair trade products including local honeys, raw treats, rare breed English charcuterie, fresh pastas, wild Welsh coracle-caught smoked sea trout; coffees, teas, chocolates and ice creams. You'll find traditional and unusual condiments, grains, nuts and seeds, natural wines, ciders, beers, gourmet oils and vinegars and all the essential everyday foods that a store cupboard must have. Other specialist products include wheat-free and gluten-free foods and other items for special diets.
The next big date for the food lover's calendar will be Oliver's 24th Birthday on Saturday 2nd November when all are invited to come and celebrate at the store with free organic cake and prosseco from 12pm-6pm.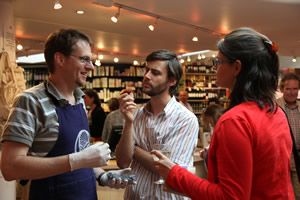 Advertisement
October 3, 2013