Kingston students designed recycled furniture

In one of its most challenging interior re-fit projects to date, display specialist Octink, one of Brentford's most innovative companies, created the London Experience Centre, a bespoke hospitality suite for sportswear company New Balance to entertain VIP guests, customers and executives during London's high profile sporting events this summer.

The 700 sqm space showcased the past, present and future, celebrating New Balance's heritage of 30 years' manufacturing and promoting its theme of 'Make Excellent Happen'.

Octink led the design, build and logistics of the project. It took a year to plan and just seven days to transform the 28th floor of the Millbank Tower, Westminster into an interior resembling an early 1900s industrial warehouse.
Sustainability was at the heart of the project; Octink used reclaimed 25 year old flooring from a school gymnasium in Scotland and sourced reclaimed bricks from a redundant Victorian factory in Manchester for the interior walls.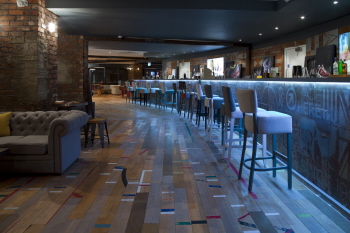 As part of its drive to link young people and businesses, Octink invited Kingston University design students to create custom built pieces of furniture from waste shoemaking materials. The 13 items of furniture, which were inspired by methods of shoe design, New Balance's product range and its sustainability values, became a frequent talking point amongst guests.

Following the end of New Balance's summer hospitality programme, the fitout and furniture have been retained and this unique interior will continue to be used as a private hire venue. In line with its sustainability objectives, New Balance will later use the student-designed furniture in its offices around the world and the specially designed canvas prints in its retail outlets.

Mike Freely, managing director of Octink, says: "This project demonstrated Octink's ability to work creatively with major brands to create a fantastic experiential space. Our close partnership with New Balance gave us a unique insight that helped us to create a high impact space reflecting the New Balance brand and values."

September 21, 2012