Green sustainable credentials recognised in leading Brentford company

Will Tyler, Chief Executive of leading display specialist Octink, has been invited to join the judging panel for the Queen's Awards for Enterprise, in the category of Sustainable Development.
These highly prestigious awards are made annually by HM The Queen and recognise the highest levels of excellence demonstrated by UK businesses in the categories of Innovation, International Trade and Sustainable Development.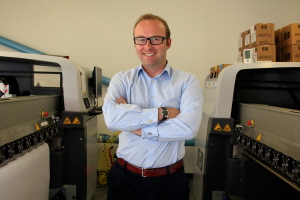 Will Tyler (pictured) comments: "It is a great honour to be involved with such an important award scheme. We are passionate about sustainability at Octink and it is inspiring to hear about the fantastic work that other companies are doing to help build a more sustainable future."

Octink is acknowledged as one of the UK's greenest companies and was the first company in its sector to introduce a complete recycling scheme for its clients. As a result of its initiatives to protect the environment, it has featured on The Sunday Times Best Green Companies list three times and won two Green Guardian Awards.
March 22, 2012