Recognised in the Green List as one of UK's greenest businesses for third year running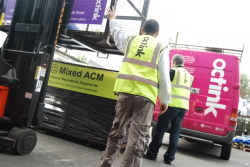 Brentford-based display and signage specialist Octink has been named as one of the UK's greenest businesses, for the third year running, in The Sunday Times Best Green Companies list 2011. Working in an industry that generates massive quantities of waste, Octink is leading the way as the only display and signage company to be included on this prestigious list.
Octink pioneered one of the UK's first complete recycling processes for redundant display material, known as R3 - Recover, Re-cycle, Re-use. As a result of this and other initiatives, it is ranked as the UK's fifth greenest manufacturer on this year's Best Green Companies list.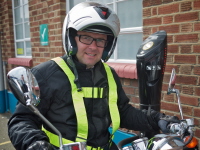 Will Tyler, chief executive of Octink, comments: "We are delighted to win the award again this year, especially against increasingly tough competition as businesses move environmental issues higher up the agenda. Our green ethos at Octink is long established and we are fully committed to pushing the boundaries even further." Will travels to work on an electric scooter (pictured left) and gives priority parking
for employees who use environmentally friendly cars or car share.
Now in its fourth year, the Green List recognises the top 60 companies in the UK at the forefront of environmental change. The in-depth selection process involves scrutinising businesses' environmental management and, uniquely, surveying employees to see how well they buy into and act upon their company's green policies. As Richard Caseby, Managing Editor of The Sunday Times puts it: "companies not only have to talk the talk, their staff have to walk the walk."
Octink scores particularly highly in this area. Employees rate Octink as a leader in its approach to environmental management and say that green issues are an everyday consideration at work, placing Octink amongst the top 10 companies in this category. 95% of employees say that chief executive Will Tyler is open to suggestions for environmental improvements.
Actively encouraging suppliers and clients to share its values, Octink has achieved impressive levels of recycling. For example, as sole supplier of branding and display material to the 2011 RHS Chelsea Flower Show, Octink recycled 97% of the 4,500 display items it provided.
June 27, 2011