Talks to Octink and Brompton Bicycles to Discuss Changes to Employment Law
The Prime Minister David Cameron, on Thursday 27 January, met with London Chamber of Commerce and Industry (LCCI) members Octink and Brompton Bicycles and the Chief Executive, Colin Stanbridge to discuss the government's plans to shake up employment law. The meeting in Brentford, West London, was arranged by the LCCI to help the government better understand the pressures complex employment regulations place on ordinary businesses. The discussions also involved Ed Davey, the Business Minister, and local MP for Brentford and Isleworth, Mary Macleod.
At the event the Prime Minister announced new measures to make it easier for employers to manage their workforce and proposed sweeping changes to the employment tribunal system.
Will Tyler, Chief Executive of Octink said: "We were delighted to welcome the Prime Minister to see our business in action and talk to him about the everyday pressures a business like our own faces. Our focus has always been on growing Octink's credentials as an award-winning display specialist, and the changes discussed today will help renew our confidence to invest in new staff to support the growth of the business going forward".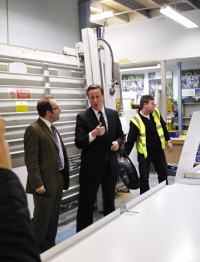 Will Butler-Adams, Managing Director of Brompton Bicycle Ltd, said: "It is encouraging to see that the government is genuinely interested in addressing an unsatisfactory system. Revisiting the balance between the rights of employers and employees is overdue, but it is important that the proposed adjustments are not regarded as an attack on the employee. I feel the changes announced will give employers the confidence to employ more staff and would further encourage them to work with employees to resolve their differences."
Colin Stanbridge said: "We appreciate the importance David Cameron has placed on reforming employment law since becoming Prime Minister and are pleased with his government's proposals on changing the time limit on unfair dismissals as well as reforming the tribunal system. While the government has made good progress in this area, we did raise with the Prime Minister the ongoing concerns many businesses have about the immigration cap and scrapping the default retirement age."
Octink's own account of the visit
January 31, 2011
January 31, 2011