Lesley Miller raising funds for domestic abuse charities
Local artist Lesley Miller has created a calendar of locals without their clothes on which she is selling to raise funds for domestic violence charities.
Lesley says "The project 'Nudes' started as a bit of a joke when people started asking me what I was going to do next after my last exhibition. I joked that I was going to paint the locals without their clothes on and when I started getting volunteers,I decided it was feasible. So I did.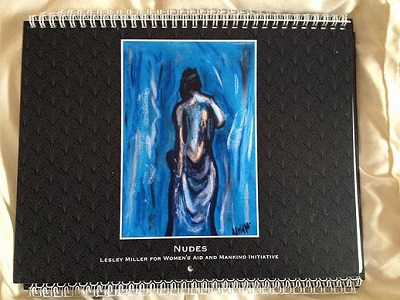 "I've spent a lot of this year painting business owners, my local councillors and neighbours and have produced the calendar. ALL proceeds will be split between Women's Aid and Mankind Initiative.
"Domestic violence is an unbelievably important issue. It affects one in four women and one in six men over the course of their lifetimes and I am very keen on doing my bit to help. The launch took place on Friday 25th September and was opened by local MP Ruth Cadbury. I am very grateful to all the volunteers who took part in the project, especially councillor Sue Sampson for her continued support with my aims."
You can contact Lesley via lesley@southstreet.biz or www.facebook.com/LJMillerArt or @LesleyJMiller or visit South Street on the Square Gallery; Isleworth, 3 Lawrence Parade, Lower Square, Isleworth, TW7 6RG
October 9, 2015