From Phil Martin and Hounslow Light Opera
Brentford singer/songwriter Phil Martin, member of The Bitter Springs and Kindred Spirit, who is releasing his first solo c.d. in January, hasn't let the dust settle before getting back into recording mode to launch a Christmas CD called Christmas Voices.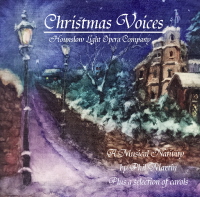 Having just completed his solo project, his producer, Steve Parry of Dazzle Sound Productions suggested another project and Phil had just the idea! Phil had a nativity he had written some 5 years back and developed over the last few Christmases and felt now was a good time to record it. However, up till now it had always been played as a guitar based piece for his local church, but he felt it needed to be expanded to appeal to other churches and schools for future performance.
Deciding he needed a choir to sing his composition, he approached award winning Hounslow Light Opera Company to provide the voices and then asked their Musical Director, Laurie Reeve, to arrange the piece for full choir.
The result is that "Worship The King" has been sympathetically opened up to choirs, whilst managing to retain the essence of Phil's original composition. It is an updated and light-hearted look at the Nativity with some beautiful and dramatic songs.
In addition to the nativity there are a selection of Christmas carols, some rarely committed to CD such as "So Gentle the Donkey", a relatively new carol, and "The Shepherd's Farewell", a carol taken from a larger work by Hector Berlioz. There are also some firm favourites like "Silent Night" and "Good King Wenceslas".
Released on the 28th November, Christmas Voices is available through the Hounslow Light Opera website, Phil Martin gigs and others organised by Helen Martin Productions Ltd, and Hounslow Light Opera events.
November 30, 2011