Say it 'has not consistently met' Council's aspirations during trial period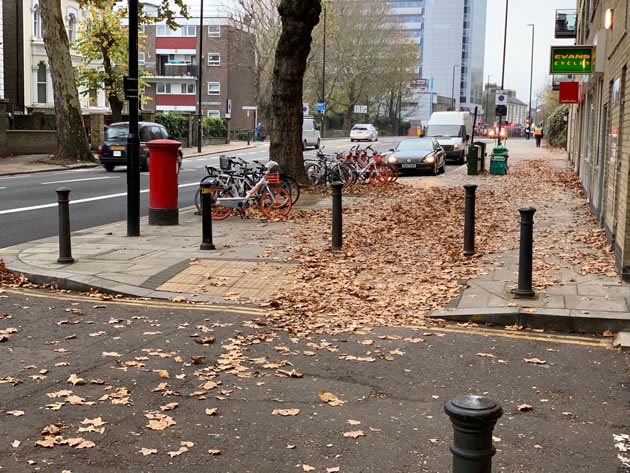 Hounslow Council has admitted that the Mobike bike sharing scheme has not lived up to the standard it wanted from a dockless cycle scheme, and it will carry out an early review of the scheme before the end of the 12 month trial in February 2019.
The Council says the purpose of the early review is "to see whether further improvements could be made or an alternative model considered." The Council admits that "the Mobike service to date has not consistently met with aspirations" for a dockless cycle scheme.
The comments come in response to local councillor John Todd raising the matter directly with Hounslow Council earlier this week.
We also asked questions about the viability of the scheme and sent a list of questions to the Council.
A statement today (5 December) from Cllr Hanif Khan, Lead Member for Transport at Hounslow Council said: "In our draft transport strategy, currently out to consultation, the council is committed to encouraging more trips to be made using healthy and sustainable modes of transport, such as cycling. Dockless cycles offer an opportunity for people to conveniently access bikes at a low cost. We do however have concerns that these sorts of operations do need significant oversight from the operator to prevent negative impacts on the street scene and obstruction of the highway.
"The Mobike service to date has not consistently met our aspirations in this regard. In light of these concerns, we will be reviewing the scheme with the operator ahead of the trial end date in February 2019, to see whether further improvements could be made or an alternative model considered. Please do send your feedback to the council for consideration."
Contact details: Traffic@hounslow.gov.uk
Link to Q&As relating to the Mobike
The main problem is that that the bikes can be left at random locations, and they are frequently abandoned outside homes, or across pavements, causing an obstruction for pedestrians.
Hounslow agreed to the bikes in Brentford and Chiswick for a 12-month trial period. Cyclists use an app to book and park the bikes, and they are supposed to leave them at a MPL - a Mobike Preferred Location - or a bike rack.
The bikes feature an integrated 'smart lock' which allows them to be GPS tracked, as well as locking the back wheel when not being used. The expensive 'docking station' such as those needed for the Santander cycles is not needed.

A mobike hub, or bike rack at Turnham Green
Users can communicate views on the trial with Mobike via their 24 hour contact centre on 0330 131 9789, if there are issues with bikes or their accounts they can be contacted via support.uk@mobike.com, or using the Mobike App.
Mobike, which is a Chinese based firm, entered the UK market in Manchester earlier in summer and picked Ealing borough to deliver its London service with an initial 750 bikes-this has now been extended to Brentford and Chiswick. To hire the bikes users download the Mobike app (Android , IOS), fill in their personal details, pay the deposit, and are ready to go. London users get a discounted deposit of £1. Users are then charged 50p for 30 minutes. The bikes can be unlocked using a QR code.
A similarly named scheme called Obike was launched in Hammersmith & Fulham by a company from Singapore but caused problems as carelessly abandoned bikes caused obstructions.
The Contact Centre is open from 9am to 6pm Monday to Friday, and there is an out of hours service, both contacted by telephone on 0330 131 9789 or support.uk@mobike.com You will need the bike number, which is painted on the bike, when you call.
Mobike also operates in 150 cities most recently launching in Florence and Milan. The company raised over $1billion last year and was reportedly valued at up to $3billion.
December 6, 2018