Fifth arrest made and suspicious BMW identified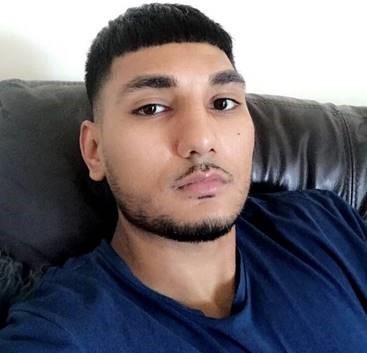 Mohammed Shah Subhani
The police have made a further arrest whilst investigating the disappearance and murder of Mohammed Shah Subhani, known as Shah.
On Thursday, 29 August, a 19-year-old-man was arrested at an address in west London on suspicion of conspiracy to commit murder and kidnap.
In addition, two search warrants have been executed at two further residential addresses in west London.
Police were called on Tuesday, 7th May 2019 after the 27-year-old failed to return to his home in Hounslow.
His family reported him as missing shortly before midnight, having seen him last at 12:30hrs that same day.
An extensive police enquiry was launched to find Shah and there have been numerous appeals for the public's help.

Scans for Shah's child were discovered in his white Audi Q3 [genuine VRM LC67 CXS], which was recovered with ballistic damage on false plates (L88 EJF) in Camden on Wednesday, 19 June.
The ballistic damage taken with the circumstances of his disappearance, means police are now treating this as a murder inquiry.
Another development is the recovery on Saturday, 3 August, in Hounslow, of a black BMW X5 that was using cloned plates, YC67MFY.
This vehicle had been stolen overnight from Reading Road in Farnborough, Hampshire on Friday, 8 February. Police are keen to hear from anyone with information about this car's movements from Tuesday, 7 May.
Detective Chief Inspector Noel McHugh, who is leading the investigation, said: "These searches and the further arrest should make it plain that we are determined to find those responsible for taking Shah and the investigation is now gathering traction.
"We have now made five arrests - and have also interviewed a man under caution at a London prison, where he is serving time for an unrelated matter. We are also searching two addresses, in west London, for evidence that may lead us to those who abducted Shah. In addition, the seizure of the BMW X5, which was found on false plates in Hounslow, is another significant development.
"Shah's first child is due to be born any day now and this should be a joyous time for his family, instead their lives are tormented with fear and uncertainty. A substantial reward of £20,000 remains on offer for information that leads to the arrest and conviction of those involved. I would urge anyone who can help Shah's family to call police or Crimestoppers. Those in the know, just imagine the pain your silence is causing Shah's loving family."
Anyone with information, no matter how small, should contact police on 101, quoting Operation Rockton.
If you don't want to give your name, call Crimestoppers on 0800 555 111 or online at crimestoppers-uk.org.
August 29, 2019